Whenever I return to Texas after some time away, I gravitate–both out in the city and in my own kitchen–towards the taco. At breakfast, lunch or dinner, a corn tortilla, warmed and slightly charred in spots, is the ideal vessel for any combination of things: fluffy scrambled eggs and nopal cactus; avocado, left over beans and sauteéd greens; grilled meat & spicy salsa, or, as in my kitchen just the other day, roasted cauliflower, tangy, creamy avocado sauce, and quick-pickled vegetables. Roasted cauliflower is a favorite of mine. It's delicious hot out of the oven, but is also great as a prep-ahead vegetable for the week. Whatever doesn't get eaten right away can then go into a salad, be pureéd in a soup, used as a stand-in for mashed potatoes, or, (of course), turned into a hearty, meatless meal as the filling in tacos.
As I tell my Health Coaching clients who are learning to cook, in most every dish, you're looking for a balance of salt, acid, and fat. In these tacos, the (good)fat comes from a slightly spicy, cilantro-filled avocado sauce. If you wanted to make this an even faster meal, simply slice avocado, chop some cilantro, add a dash of hot sauce, and skip the sauce-making step. The acid comes from lime and from crunchy, pickled vegetables. The salt is in each ingredient so that every component tastes well seasoned on its own but not over-salted when combined.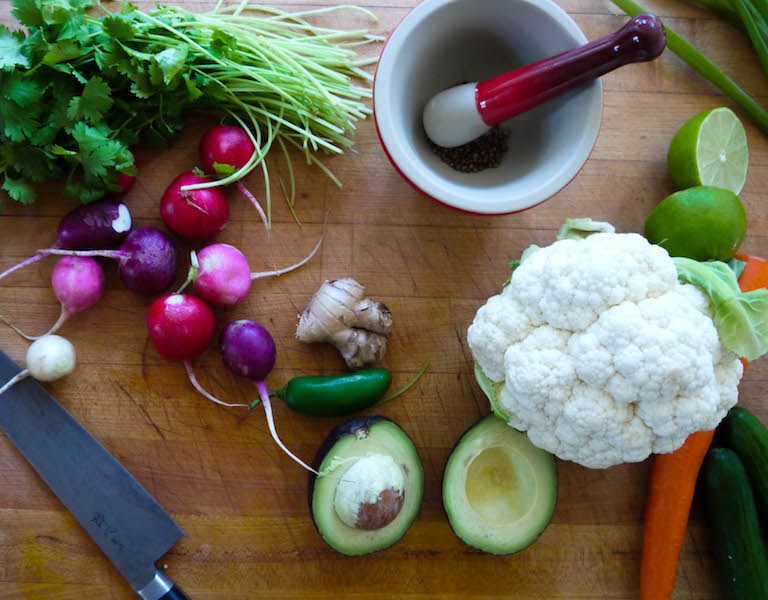 In the interest of texture, I suggest roasting your cauliflower until it's barely cooked through so it maintains some firmness against your bite.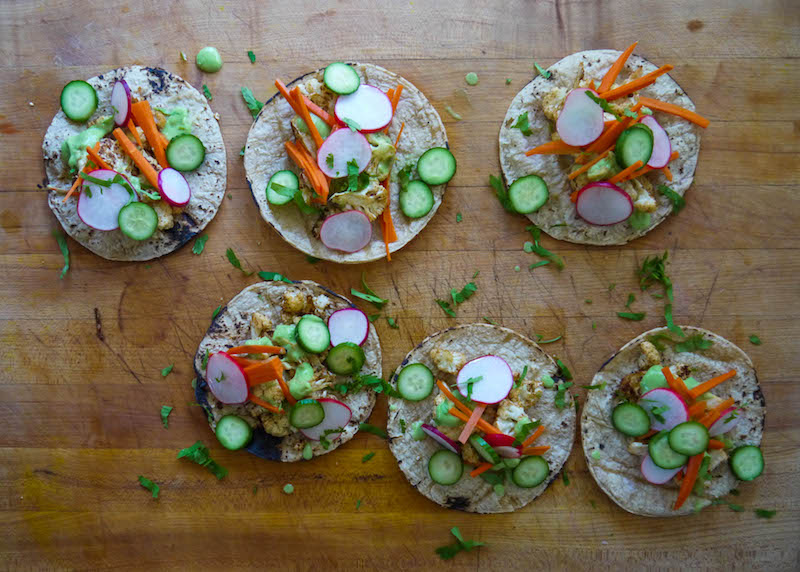 As usual, this recipe can be adapted in many different ways–add ingredients, use different vegetables in your pickle, ramp up the spice or add other herbs in the avocado cream. Use ingredients that call to you, that look and feel vibrant. And have fun!
Roasted Cauliflower Tacos with Avocado Cream & Crunchy Pickled Vegetables
makes about 8 tacos
PICKLED VEGETABLES
1 large carrot
6 radishes
1 cup red wine vinegar (or other preferred vinegar)
2 cloves garlic
1 bay leaf
1 t black peppercorns
2 t sea salt
1 t honey
about 1/2 cup water
-Peel the carrot and cut around the circumference into thirds. Either slice into 1/8-inch thick rounds or cut into matchsticks. Place in a heat-proof bowl and set aside. De-stem the radishes and slice into 1/8-inch thick rounds or cut into matchsticks. Add to the bowl with the carrots.
-To make the pickling brine, put the remaining ingredients in a small saucepan. Bring to a boil over medium-high heat, reduce heat and simmer, stirring, until honey and salt have completely dissolved. Remove from heat and let cool for 5-10 minutes. Pour over the carrots and radishes, mixing well so the vegetables are all submerged, and place in fridge. This step can be done ahead of time. Left over pickled vegetables will keep in fridge for 7-10 days.
AVOCADO CREAM
1/2 a ripe avocado
juice of 1 lime
1/4-1/2 small jalapeño, seeded
1/2 cup cilantro leaves and stems
1 T extra virgin olive oil
1 small scallion, chopped
pinch of salt
water to thin, about 1/4 cup
-Place the avocado, jalapeño, cilantro and scallion in a food processor or high speed blender. Pulse to combine. Add salt, olive oil and lime juice. With the motor running, slowly add water through the feed to tube to thin to desired consistency. I like it spoonable but not too thick–about the thickness of ranch dressing. Taste and adjust seasoning as needed. It should be tangy and spicy and very cilantro-y. Can be done 1 day ahead of time and stored in fridge. Leftover cream will keep in fridge for 5 days and makes an excellent stand-in for mayo in chicken salad. Just sayin….
ROASTED CAULIFLOWER
1 head cauliflower, de-stemmed and cut into bit-size florets (stems can be chopped and used as well)
1 t ground cumin
1/4 t chipotle
1/4 t smoked paprika
1 T extra virgin olive oil
pinch of salt
-Preheat oven to 425. In a large bowl, toss all of the ingredients together until cauliflower is well coated. Spread in an even layer on one or two baking sheets and roast until just cooked through. You can test with a fork which should go through the cauliflower but still have some resistance. About 30-35 minutes. Remove from oven and let cool slightly. Use right away or let cool completely and store in fridge.
TACO ASSEMBLY
8 corn tortillas
roasted cauliflower
pickled veggies
avocado cream
Optional Delicious Additions:
hot sauce, cotija or feta cheese, cucumber, chopped cilantro, hot sauce, pepitas
-Pre-heat oven to warm. On a gas range, turn two burners to medium-high. Place one tortilla directly on the flame of each burner. Let heat for about 30 seconds then turn using metal tongs. You want the tortilla to be warm, soft, and maybe slightly charred. Remove from heat and place tortillas in a clean dishtowel and place in warm oven. Repeat until all tortillas are warm. If you have an electric oven, get an un-oiled, cast iron pan very hot and heat the tortillas one at a time in a similar fashion–leaving it to warm on one side for 30-45 seconds then turning, repeating as needed.
-When ready to assemble, arrange the tortillas on a board or butcher-paper covered table. I like the butcher-covered table for a more casual, communal feel. Layer each tortilla with cauliflower, avocado cream, pickled veggies and any other toppings. Eat immediately!