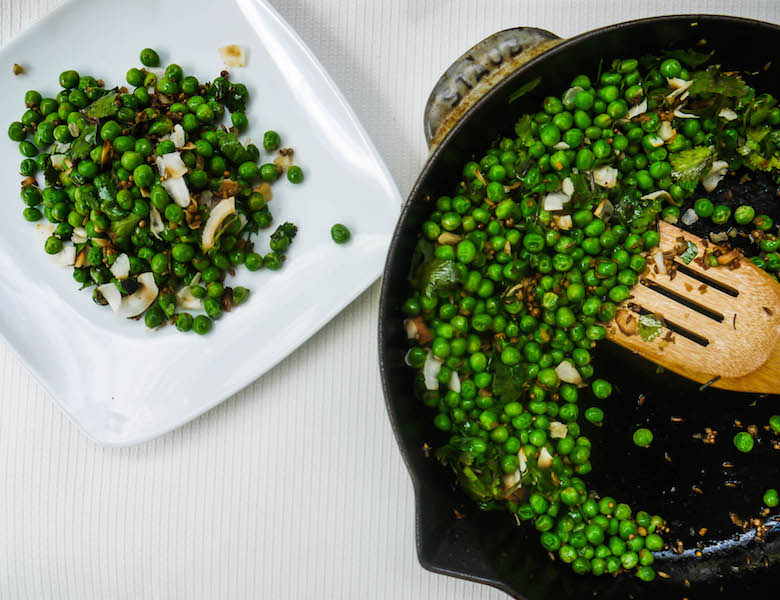 Spring arrived in the heartland last week with all its theatrics. Our newly planted magnolia pushed out a few crimson blossoms and then lost them in a crushing rain. The damp cold changed in one drastic day to damp heat and I've traded wool socks for sandals, hot drinks for iced. The sun has taken on a new ferocity and oh, how I miss the ocean. There is an acceleration of time in spring. The days are suddenly full and fast, never quite long enough even as the day light hours lengthen. There is a rush of new energy–in my waking hours, in my mind, in my socializing. An outwardness, an openness, a shaking off of hibernation and mutterings about the cold and dark. The city streets and their inhabitants are all blossom and flirtation and youthful optimism.
I want my meals exceedingly simple. Bright and light. A verdancy to match that of the fresh bamboo sprouts along the driveway and the carpet of new radishes coming up around the stairs. I want my food to propel me into the next activity, and while it's my business to be in the kitchen, these days, I don't want to feel chained to it.
I think of this dish as a perfect shoulder season plate. The spices are warming, great for circulation, and a good way to stoke digestive fire which can be sluggish as we move from the fullness and holding of winter. I like to think of it as an aid for internal thaw. The peas and cilantro hold all the vibrancy and promise of spring and just make for a generally cheerful plate.
This is a great side dish for meat or fish but I also love it as a light lunch with a medium boiled egg, or a handful of pumpkin seeds, or crumbled goat cheese, or a bed of hot rice and a spoonful of plain yogurt. Like most of my favorite dishes, this one has near-endless iterations, and is so quick to prepare, you don't have to miss a moment of these efflorescent spring evenings.
Indian-Spiced Peas with Cilantro & Coconut
10 oz-bag organic peas, thawed
1 T unrefined virgin coconut oil, ghee, or grass fed butter
2 cloves garlic, peeled & minced
1-inch piece ginger, peeled & minced
1 t each cumin seed, coriander seed, mustard seed
1/2 t fenugreek
1/2 t sea salt
1/4 cup unsweetened coconut flakes
1/4 cup cilantro leaves, roughly chopped
In a small dry pan, toast the coconut flakes over medium-high heat until fragrant and lightly browned. Pour onto a plate in a single layer to let cool. Set aside.
Melt the coconut oil in a medium pan or saucepan over medium-high heat. Once melted, add all of the seeds & fenugreek, and cook, stirring, until fragrant and beginning to pop. Add the garlic and ginger and continue cooking, stirring frequently, for another 3-4 minutes until garlic is fragrant and soft but not browning.
Add the peas and stir well to combine with spices. Add the salt and continue to cook, stirring, until the peas are heated through, about 5-6 minutes.
Remove the pan from heat and stir in the cilantro and coconut. Taste and add salt as needed. Serve as is or with any additional toppings desired.