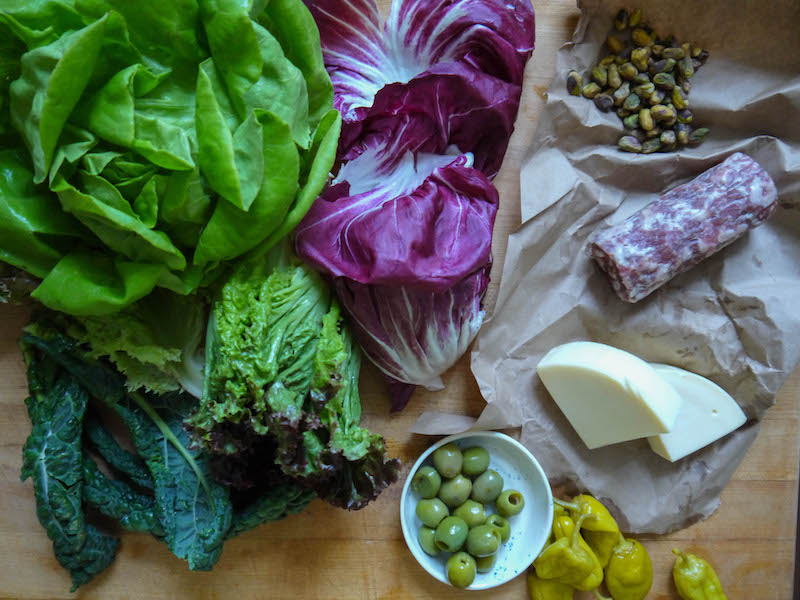 A few months ago I went to Los Angeles for a wedding. I stayed in Venice, blocks away from iconic places of my childhood: Muscle Beach where I loved to scamper up and down the thick gym rope, much to the chagrin of the bulky body builders standing arms across swollen pecs below; the woodworking studio of an schoolmate's father where we used hot glue guns to make geometric sculptures, garage door open to the bright sun, beach breeze and cigarette smoke and car exhaust wafting through the room; Jonathan Borofsky's creepy Ballerina Clown sculpture on Rose Avenue whose perpetually kicking, motorized right leg is now eerily stilled; and down the street from there, the Rose Cafe–a perfectly California lunch spot where we went with our parents for heaping salads, open faced sandwiches, and frosty glasses of lemonade, nestled into the back garden in the company of expensively-coiffed movie execs, lithe and briny surfers, local artists, and pouty ingenues.
On this recent trip, I took a break from eating two of my daily meals at Gjusta, and went to The Rose Cafe which now takes up a full city block. The cast of characters is much the same though now with more tourists and more laptops. I ordered the Chop Salad. I don't recall if this was an exact replica of one of the old menu items, but it more than satisfied my nostalgic craving for a fresh, crunchy, monstrous pile of salad. A chop salad, done right, is really the perfect entree salad. With each ingredient cut to the same, uniform size, every forkful delivers the perfect ratio of texture and flavor.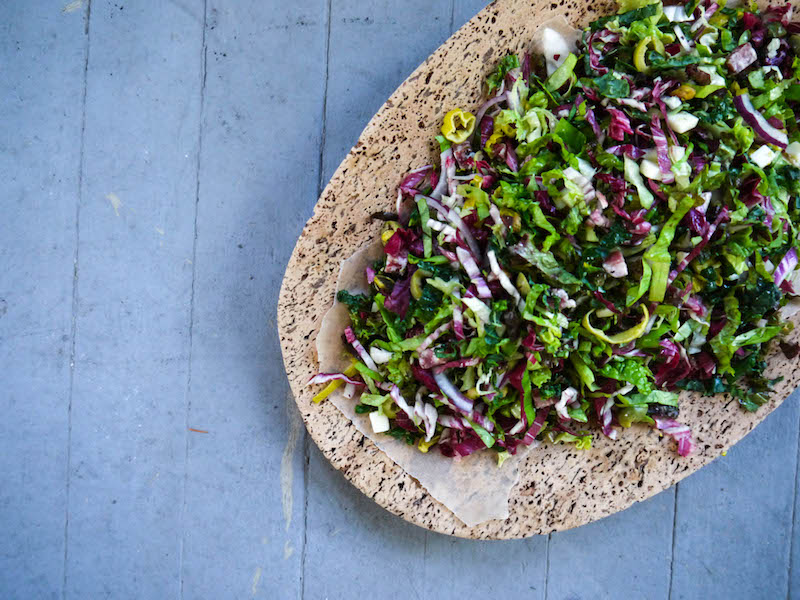 In this case, it was like eating a deconstructed Italian subway sandwich. Hiding in the ribbon piles of sweet and bitter lettuces were slices of olive, piquant, tangy slivers of pepperoncini, and small cubes of salami and provolone offering a salty, chewy punch of flavor, almost as a surprise mid-bite. A week later, home in Austin, I craved this salad in a way that ensured no other salad would satisfy. I made my own version at home, hewing as true to the original as I could without having a true recipe. It has since become a dinnertime staple, especially as the temperatures here soar into triple digits. I have all but abandoned meals that require heat to prepare.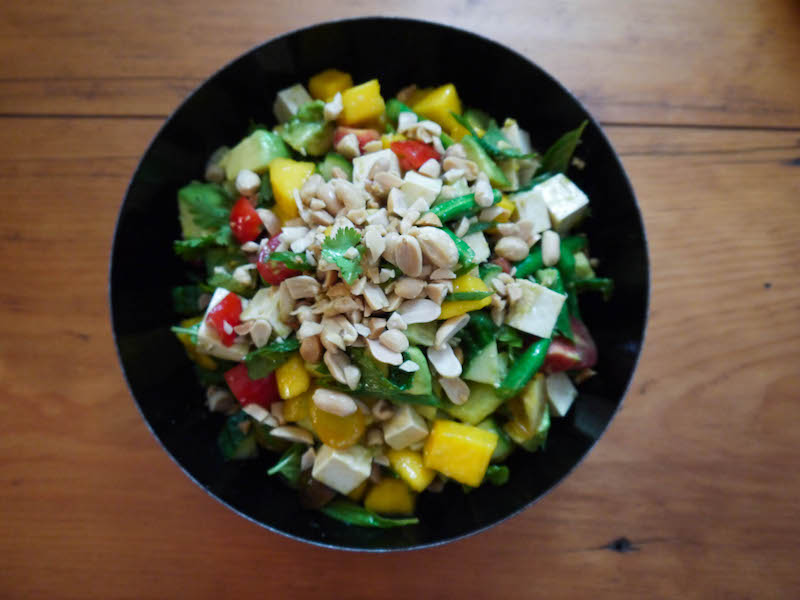 As salads take the seasonal center stage on our table again, I have been playing with all kinds of dinner salads. A few days ago I conjured up this vegan counterpoint to the Rose Cafe Chop. This is a lettuce-less, super crunchy, cooling and hydrating meal, heavy on herbs and dressed in a bright, ginger-spiked dressing. Similarly to the Rose Cafe Chop, the key to this salad is cutting your ingredients to the same size so that each bite delivers the full spectrum of flavors and textures. The only cooking required is a quick blanch of the green beans, and even that step isn't mandatory. No matter what ingredients you choose, your dinner salads should be plentiful (it takes a lot of veggies to fill a belly), multi-textured (something crunchy, something soft or chewy, something leafy), and ideally contain a protein and a good fat alongside the carbohydrate of your fruits and veggies to keep your palette happy and your appetite sated. Even though these require a lot of chopping, you'll have dinner on the table in under 30 minutes. Here's to the season of oven-less cooking and long, al fresco dinners. Happy summer, ya'll.
Rose Cafe Chop
serves 2-4 depending on how ravenous you are
4 cups very thinly sliced sweet lettuces(Butter, Romaine, Red Leaf)
4 cups very thinly sliced bitter lettuces (endive, watercress, radicchio, arugula)
1/2 cup packed, thinly sliced pepperoncini
1/2 cup sliced castelvetrano or other green olives
4oz mild salami cut into small cubes (about thumb nail size)
4oz provolone cut into small cubes (about thumb nail size)
1/2 cup pistachios coarsely chopped
1/2 small red onion very thinly sliced
For the Dressing
1 T dijon mustard
2 T red wine vinegar
1 t maple syrup or liquid honey
1/2 cup extra virgin olive oil
pinch of salt
-Place the red onion slices in a small bowl of water to soak while you chop/compose the salad–at least 10 minutes. Lift out with your fingers or a slotted spoon and place on a kitchen towel. Pat dry and set aside.
-Place all salad ingredients including onion in a large bowl and toss, undressed, to mix.
-In a small bowl, whisk together the dressing ingredients and taste. You don't want the dressing too salty since many components of the salad are salted already. Taste and adjust as needed.
-Pour 3/4 of the dressing over the salad, toss until very well combined and everything is evenly coated. Taste, adjust salt as needed and add more dressing if needed. You want it evenly dressed but NOT soggy. Serve with fresh cracked pepper.
Vegan Summer Chop
serves 2-4 & also makes excellent side for grilled meats & fish (if you aren't vegan)
1 medium mango, ripe but firm
1 cup green string beans, rinsed and tipped
1 small container ripe cherry tomatoes
1/2 English cucumber, peel on
1/2-1 whole serrano pepper depending on desired spice
1 medium avocado, ripe but firm
2 scallions, green & white parts
big handful each of barely torn mint, basil & cilantro leaves
1 package extra firm tofu
1/2 cup roasted, salted peanuts, roughly chopped
For the Dressing
1/2 cup sesame and/or extra virgin olive oil*
1/2 inch peeled ginger, grated
1 clove garlic, grated
juice of 1/2 lime
1 T rice vinegar
3 t nama shoyu or tamari
1/2 t honey
-bring a medium pot of salted water to boil. Place a cup of ice and cold water in a bowl and set aside. When the water boils, drop the green beans in. Let cook until bright green and barely cooked through, about 1 minute (less if using true haricot vert) and remove pot from heat. Using a slotted spoon or tongs, remove the green beans from the boiling water and place in the ice bath to stop from over cooking.
-Mince the serrano pepper and set aside.
-Halve the tomatoes and place in a large salad bowl. Cut the cucumber, avocado, and tofu into cubes about the size of the halved tomatoes and add to bowl.
-Slice two big pieces off the mango, working from top to bottom, slicing just to the right and left of center, around the long flat seed in the fruit. Carefully, using the tip of your knife, score the flesh into a checkerboard without piercing the skin. Start with 4-5 vertical cuts then make horizontal cuts to make squares about the same size as your other salad ingredients. When you've finished, push the skin of the fruit towards the flesh, inverting the skin and exposing the cubes as individual pieces. Use the long part of your knife blade to carefully shave the slices off the skin and into the salad bowl. (if this is confusing, go here.)
-Drain the green beans and pat dry with a kitchen towel. Slice the beans into halves or thirds and add to the salad bowl. Add the herbs and serrano pepper to the bowl and toss, undressed, with your hands.
-Whisk the dressing ingredients together in a small bowl and taste. Adjust seasoning as needed. You want it to be quite citrusy, gingery, and salty. Pour 3/4 of the dressing into the salad bowl and toss until everything is well combined and evenly dressed. Taste and adjust seasoning as needed.
-Top with peanuts and serve immediately.
*I used 1/4 cup sesame oil & 1/4 cup extra virgin olive oil–toasted sesame would also be good but it quite strong so use sparingly and then adjust before dressing your salad.