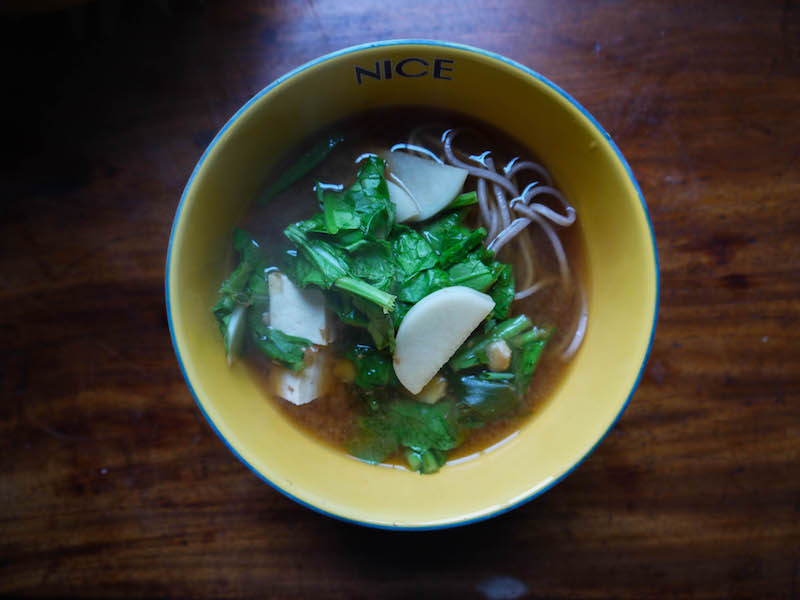 When I think of summer food my mind goes right for the juicy, temporal produce of the hottest months: sweet, sun-warmed tomatoes, ripe melons, snappy green peas, and smooth, cool cucumbers. I do not, typically, think of turnips. However, when I walk into the August farmers' market and find piles of Hakueri Turnips gleaming like fat pearls, I am delighted to ignore the heirloom tomatoes and fill my basket with this special brassica. Hakueris are a Japanese varietal of turnip and they are considered a salad turnip because of their soft, supple texture and sweet flavor. They have none of the stringiness or sharpness of their winter cousins. You can eat them whole and raw just as you would an apple.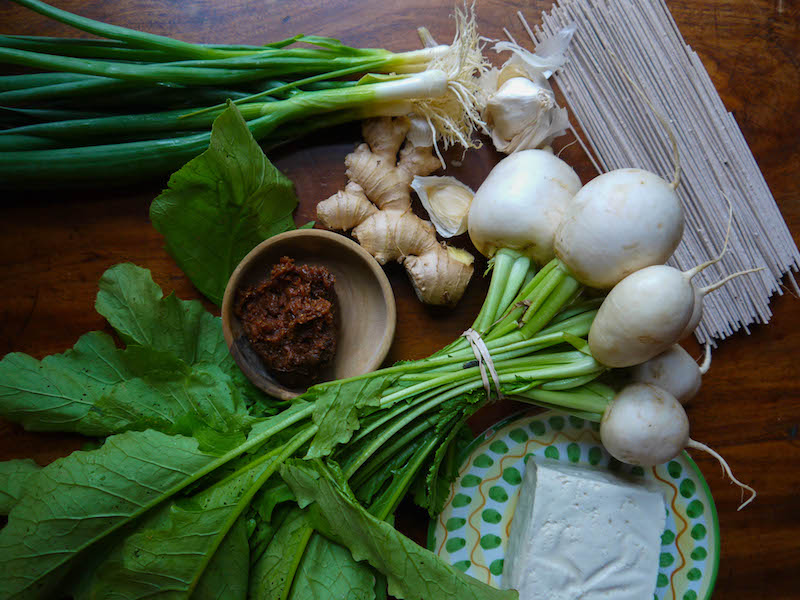 Turnips are in the brassica family along with kale, brussel sprouts, and broccoli, to name a few. Brassicas are anti-cancerous, anti-bacterial, ant-viral, anti-inflammatory, high in Vitamins C & A, and high in calcium and potassium. The bitterness of most brassicas helps stimulate liver function and they are all high in fiber which feeds the healthy bacteria in your digestive tract. Whenever I am in need of a cleansing, nourishing meal, I go for a brassica.
Today I woke to a cool rain–the perfect Maine morning to cook and read in the kitchen by the fire. I went to the farmers' market with no specific plan. There in the corner, behind the rainbow carrots, the zebra stripe tomatoes and the cardboard cartons of wax beans, was a pile of Hakueris with beautiful greens attached. Lunch.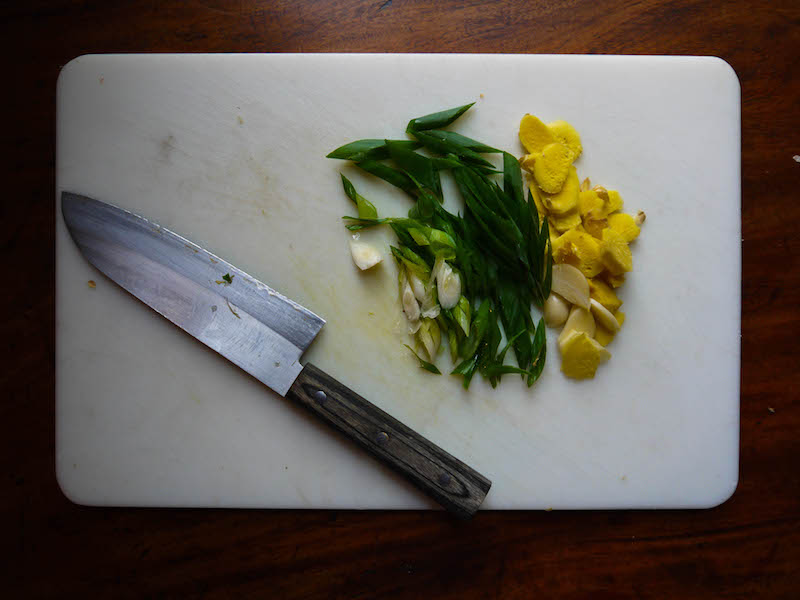 Because Hakeuri's need little to no cooking at all, I decided on a simple miso broth and soba noodles–a quick, earthy, meal that wouldn't sit too heavily in my system. From start to finish this takes about 20 minutes. You can cook the soba noodles a day ahead of time if you like, or pour the soup over leftover brown rice. Leftover chicken would work just as well as tofu and you could add any other quick cooking vegetables to this as you choose. If you can't find Hakeuris with greens attached, add a handful of chopped kale or other hearty green instead. Whatever you do, make sure you keep one turnip aside, uncut, so you can sink your teeth into it like an apple. You won't regret it.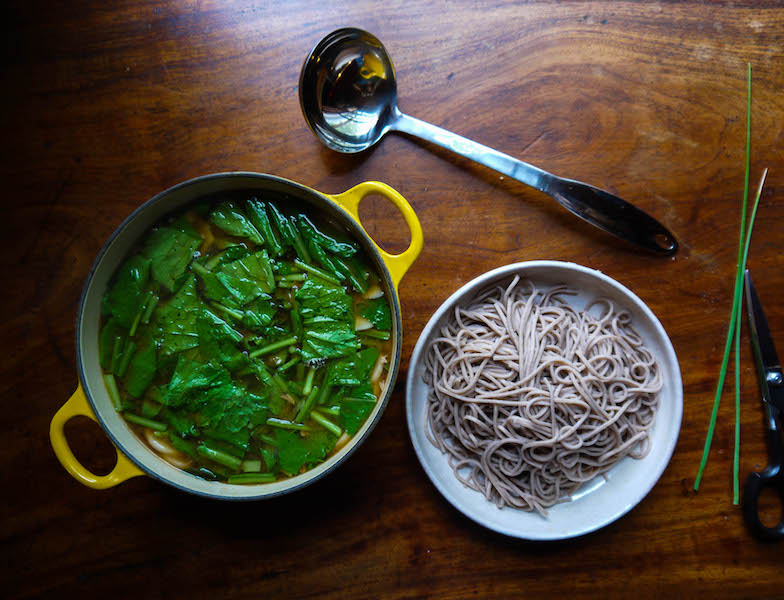 Simple Rainy Day Soba Soup
serves 4 with some leftover broth
1/2 package soba noodles
1/2 cube firm tofu, cut into large cubes
4-6T miso paste *see note
3-5 Hakeuri turnips or more depending on size, about 1 1/2 cups thinly sliced
greens from the turnips, roughly chopped, about 2 cups
1 1/2 inch piece of fresh ginger, peeled & thinly sliced
1 large clove garlic, thinly sliced
1-2 scallions, whites & greens, thinly sliced
6 cups water plus more to cook soba
chives & hot sauce to top optional
-To cook the soba, bring a large pot of water to boil. Add the soba and cook about 8 minutes (or following package directions), until just cooked through and not at all mushy. Drain in a colander in the sink and rinse the noodles with cold water to stop them from overcooking.
-While the water for the noodles is heating, place the ginger, garlic & scallions in a medium pot and cover with the 6 cups of water. Bring to a boil over medium-high heat then reduce heat and simmer for 10 minutes to create a mild gingery broth.
-Once the soba has been drained, add the turnips and tofu to the ginger broth and cook for 2 minutes. Place the miso paste in a small bowl and add 1 cup of the ginger broth. Whisk until miso has fully dissolved then add back into the pot with the turnips. Taste the broth. If it needs more flavor, repeat the miso step with another tablespoon at a time until broth is to your liking. Remove the pot from heat and stir in the turnip greens.
-Divide the soba among four bowls and ladle the hot soup over the soba. Top with chives and hot sauce or chili paste and eat immediately.