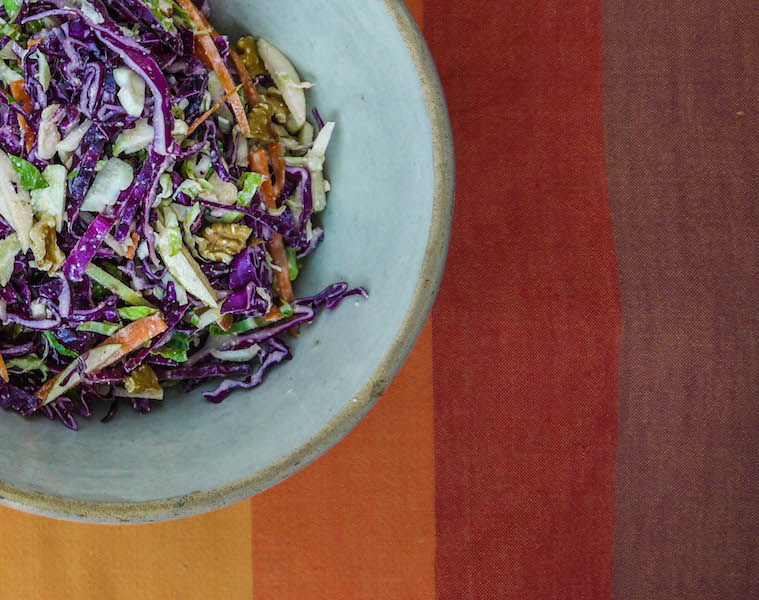 In my opinion, September is the best month for produce. The garden is still pushing forth the jewels of summer–juicy, red tomatoes, small, crisp cucumbers, waxy string beans in purple, green and pale yellow, waves of rainbow chard and spicy little lettuces–while early autumnal treats emerge–tart, crimson apples, fat heads of cabbages and tight bundles of brussel sprouts, the first magnificent winter squashes slumbering beneath their heavy vines. Typically, in the fall, I start to move away from raw foods and towards cooked food, warming spices, and starchier vegetables. I look for foods with a grounding quality, foods that help me feel earthbound and centered as the season shifts. This September, however, has been warmer than most I can remember and I find myself still in summer-mode–bathing suits, raw foods and rosé. This shoulder-season slaw combines crunchy elements of both summer and fall. The walnuts and walnut oil add an earthy, grounding quality to an otherwise light and snappy dish. It's great as a side dish for anything off the grill, but I love it best as a late lunch eaten on the porch in the sun. It's summer and fall. It's a compromise. It's the best of both worlds. It's delicious.
Shoulder-Season Slaw
serves 4-6
1/2 small head purple cabbage (about 5 cups chopped)
1 large carrot
10-12 brussel sprouts (about 2 cups chopped)
1 tart apple
1/4 cup raw walnuts
1 small clove garlic
2 T walnut oil
1 T sherry vinegar
1/2 t sea salt
1/8 t cayenne
1/4-1/2 cup water
To Make The Dressing
-Place the walnuts, garlic clove, walnut oil, vinegar, salt and cayenne in a food processor or high speed blender. Blend on high until well combined.
-With the motor running, slowly pour water in through the feed tube until dressing is thin enough to pour. 
-Dressing will keep in a sealed container in the fridge for a week.
Note: You can leave the dressing thicker and use it as a sauce for meats, chicken, fish, a baked sweet potato, etc…
To Make the Salad
-Use a very sharp knife or the shredding blade of a food processor to thinly slice the cabbage, carrot, brussel sprouts and apple. Do the apple last, as it will brown if exposed to air for too long.
-Place all the ingredients in a large salad bowl and pour the dressing over the top. Toss well until everything is well coated. I suggest using your hands for this step but good tongs will work too.
-Taste and add salt as needed.
-Slaw can be made and dressed ahead of time and will keep in the fridge 3-5 days.