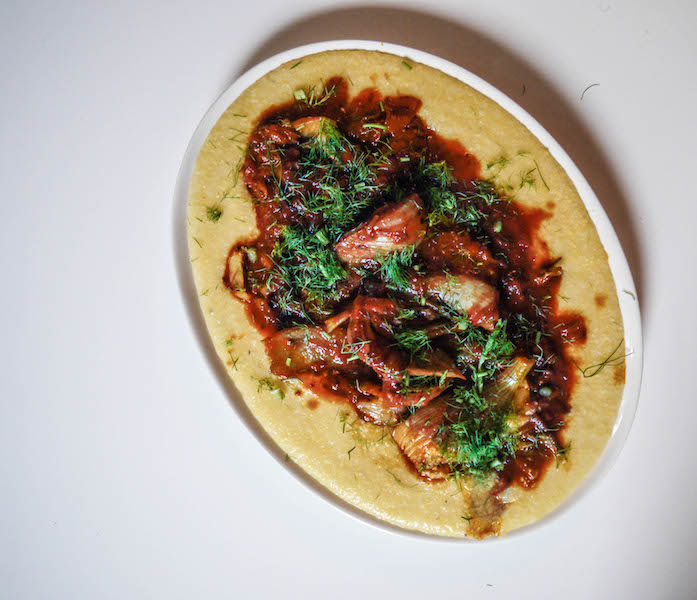 The idea of lunch being the primary meal of the day is so romantic. My mind calls up images of meals in Europe, both real and imagined–smoked rice paella with squid ink and ice cold Albariño in Barcelona, by the sea; roast chicken, cucumber salad, dense sour bread and potatoes in a rose garden in England; a seemingly endless parade of small savory dishes on a busy street in Turkey, anchored by steaming flat bread and over-brewed tea; molten pizza in a narrow alley in Naples, and pasta, and artichokes, and wine and espresso. All of these meals, in my mind, are leisurely, sunlit, shared with loved ones, followed by brisk walks to nowhere in particular and maybe a nice, short nap. Would that we could eat this way on a regular basis, stop the clocks in the late afternoon, silence the cell phones, leave the office, and feast. I realize, of course, that this isn't realistic for most of us, myself included. And obviously, not every lunch can possibly be dappled in sunlight–European or not.
Metabolically speaking, however, it's very logical to eat this way. You are far more likely to make use of the calories you eat earlier in the day than you are the ones you eat an hour or two before you go to bed. There have been times in my life when I have attempted to put the "Euro" model of a big lunch and a small dinner into practice at home and it just hasn't stuck. I am hard wired to go-go-go-go-go all day long and, at the end of the day, to ritualize dinner, to let that final meal be like a long-awaited exhale, the signal that at last, I have accomplished all I need to and can relax.
This afternoon, I whizzed about in my normal efficient state all morning, ticking things off my to-do list, and came home in the late afternoon, ravenous, and dead set on eating a particular dish, which I have eaten twice already this week. It's a simple dish of fennel braised in saffron, tomato and broth and it comes from the beautiful book Vegetable Literacy, by Deborah Madison. Now that I possess this book, I wonder how I got along without it. It's an exploration of vegetables, herbs and wild edibles through the lens of shared botanical families. The book, (like one of my other favorites discussed here) explains each ingredient in the garden as well as in the kitchen, and casually suggests companion flavors in addition to providing stunning and simple recipes.
The meal didn't take long to make, and by the time I finished cooking it, my sweetheart was home and equally hungry. We sat at 2pm with no sunshine on the table, no wine either (an oversight, I admit), and after lunch we didn't walk down streets of antiquities or through a Tuscan olive grove. We did, however, take our time. We relished each bite feeling almost as if we were getting away with something. Afterwards we returned to our work, bellies full, brains recharged, and bodies energized. We had stopped the clocks and come out on the other side of our mini vacation, refreshed. So, if you find yourself with an open afternoon–be it a Sunday or a Tuesday–take the time to indulge in a mid-day feast. You'll wonder why you haven't made a habit of it.
Fennel Braised in Tomato & Saffron over Polenta
barely adapted from Vegetable Literacy
serves 4
For the Polenta
1 cup polenta
4 cups water or broth (I use broth)
For the Fennel
2 large bulbs fennel, fronds trimmed off & reserved
1 1/2 cups chicken or vegetable broth
3 T olive oil
2 t fennel seed
big pinch saffron
3 T tomato paste
1 clove garlic, crushed
1 onion, halved and thinly sliced
1 sprig fresh thyme
1 T butter
salt and pepper to taste
To Make the Polenta: Bring the broth or water to boil over medium-high heat. Pour the polenta into the pot in a steady stream, turn the heat to low, and whisk continuously until the grain thickens enough that it no longer sinks to the bottom when you stop stirring. Cover and cook for another 30-40 minutes, stirring vigorously every 10 minutes, scraping down the sides and bottom of the pan to avoid sticking.
To Make the Fennel: Once the polenta is covered and cooking, heat the oil in a large, heavy skillet over medium-high heat. Add the onion, fennel seed, thyme, and saffron and cook, stirring frequently for a few minutes, until, as Madison says, "the steam releases the color from the saffron."
Cut the fennel bulbs in half from top to bottom, and then cut each half into wedges, no thicker than 1 1/2 inches across. Place them in a single layer in the pan and cook until they have a good, golden sear on them. Turn them over and let them sear on the other side. Stir the onions and fennel seed around from time to time so they don't burn. Once the fennel is nicely browned, stir in the garlic, tomato paste and broth. Cover and simmer for 15 minutes.
If the sauce is still quite liquidy, remove the fennel from the sauce with tongs and set aside on a plate or baking sheet. Stir the butter into the sauce and reduce for another few minutes until it has thickened a bit. Taste and adjust salt and pepper as needed.
Chop some of the reserved fennel fronds for garnish. You can also use parsley here if you like, or a mix of the two.
Spoon the polenta onto individual plates or one large, rimmed serving dish. Place the fennel wedges over the polenta and spoon the hot tomato sauce over the fennel. Garnish with the chopped herbs.
This dish is supremely satisfying on its own and is really a testament to how satisfying vegetarian food can be. That said, it is also delicious alongside chops of lamb or goat, seasoned simply with salt and pepper, grilled or seared in a hot pan to medium rare, and devoured with your fingers.