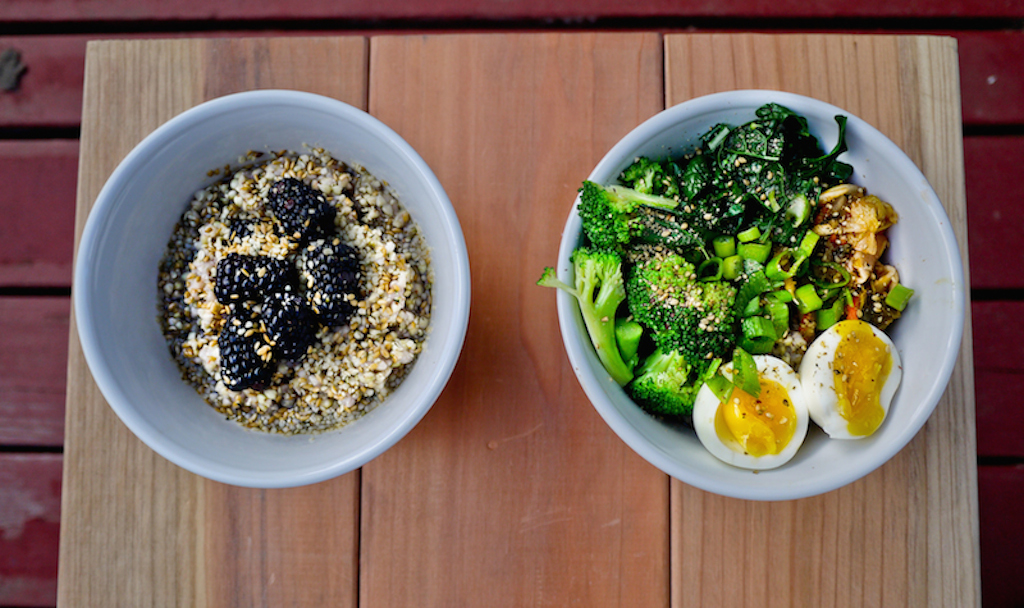 I've been on a savory breakfast kick for at least a month now–eggs, beans and avocado, salty cheese and slices of tomato, and, as of the past couple weeks, buckwheat porridge. I used to eat buckwheat in a raw cereal mixed with chia and hemp seeds, drowning in almond milk, topped with cinnamon, cayenne, and berries. But like all my breakfast routines, it eventually fell out of rotation and was replaced with something else. I've always been fickle about the first meal of the day.
Last month, a dear friend and soon to be certified acupuncturist, sent me a text saying "Bikram and buckwheat are getting me through the last cold bursts of winter." I had just moved to the mountains. There were feet of snow on the ground and a permanent chill in my bones that I hadn't experienced in years. The text came at the perfect time. The next morning, I donned two sweaters and made buckwheat porridge.
Buckwheat is not wheat at all but an ancient, weedlike plant that produces a small seed resembling grain. It is non-glutinous, a good source of chlorophyll and vitamins, and it contains all eight of the essential amino acids. Cooked buckwheat has a warming, drying effect on the body so it's  a great thing to eat in the lingering winter weather or the onset of fall. I like buckwheat groats which are the raw, green seed, but Kasha–the toasted form–is delicious as well and has a nice nutty quality to it. 
The snow has melted now but the mornings stay cold and I still want a stick-to-my-ribs, hot breakfast with my coffee. Mostly I stick to the savory side of things but with a little prodding from Pete, I'll pour a healthy slug of maple syrup over my porridge and start the day the sweet way.
Breakfast Buckwheat Bowls
serves 2
1 cup raw buckwheat groats or kasha
2 cups water
big pinch of salt
toppings for a savory bowl
1 small head broccoli
1-2 leaves lacinato kale
1 T toasted sesame oil
1 medium boiled egg (8 minutes)*
1 T gomasio **
1 green onion, thinly sliced
1 heaping T raw-fermented kimchi
toppings for a sweet bowl
1/4 cup berries
1 t hemp seeds
1 t flax seeds
1 t cinnamon 
1 T grade B maple syrup
Bring the buckwheat, water, and salt to a rolling boil over medium-high heat. Lower heat and simmer for 12 minutes. Remove from heat and let stand, covered, for 5 minutes.
If you are making a savory bowl, while the buckwheat cooks, steam or blanch the kale and broccoli. If steaming, place the veggies in a steaming basket over a pot of boiling, salted water and steam until veggies are bright green and barely cooked.
If you are blanching, bring a small pot of salted water to a rolling boil, drop the broccoli in and cook for about 1 minute before removing with tongs and dunking in an ice bath. Repeat with the kale which won't need more than 30 seconds. Remove the veggies from the ice bath and cut into fork-friendly pieces.
When the buckwheat has finished cooking, distribute evenly between two bowls.
For the savory bowl, pour the sesame oil over the top of the buckwheat then add the vegetables and the medium boiled egg, halved. Top with the gomasio and a pinch of flaky sea salt.
For the sweet bowl, pour the syrup over the top of the buckwheat, then add the fruit, seeds and cinnamon and a pinch of flaky sea salt.
*To make a medium boiled egg, bring a small pot of water to a rolling boil and, using a spoon, lower the egg into the pot. Boil, uncovered for 8 minutes. Remove the pot from heat, remove the egg from the pot with a spoon and run under cold water. Peel and enjoy.
**gomasio is a Japanese seasoning made from sesame seeds, and salt. I like one made by Eden Organics which has seaweed in it as well.