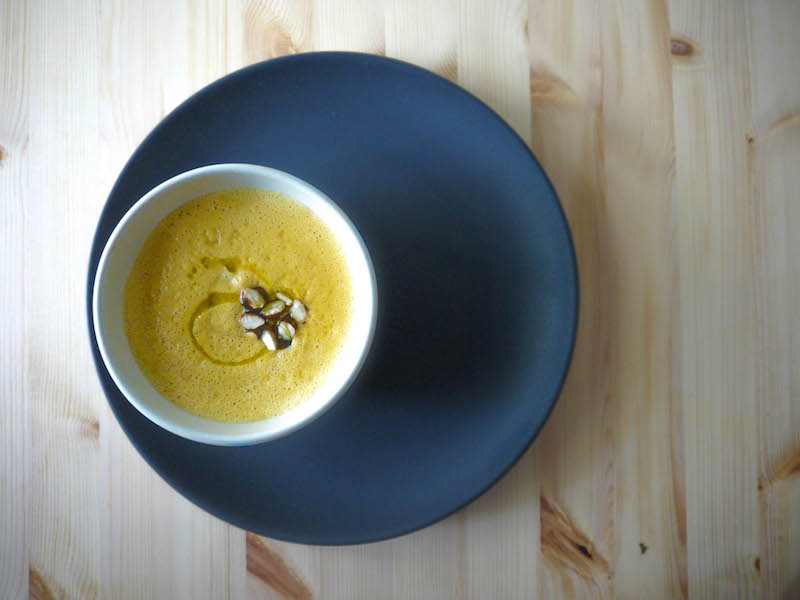 Some days it has to be the simplest of things. The accomplishments are small but not insignificant. I unpacked boxes. I changed the burned out lightbulbs. I detached myself from my computer and the unread emails for a short walk around the neighborhood so I could feel the wet air, smell the jasmine cascading over so many walls, see the first fireflies of the season. I love spring for its natural acceleration, its throwing open of the shutters, and that animal instinct to go out into the world again and to the let the world in. But it's always a balance, isn't it? These past weeks I've found myself moving at a near sprint, and the days stay full, even as they lengthen. It felt, then, like quite an accomplishment to spend some time in the kitchen yesterday, trying new recipes, replenishing staples, listening to podcasts and making things with my hands. I conjured up this Vitamin C-packed soup with romesco–the delicious Spanish sauce–in mind. It's quick and light, it is delicious hot or cold, and I now have single-serving mason jars of it lining my fridge so I can grab and dash.
We spend a lot of time making our To-Do lists, adding tasks as quickly as we check them off. But what about taking a moment to acknowledge the Things-Done list? What about pausing, just briefly, in the vernal whirlwind to note the small, yet not insignificant accomplishments. I made it to the gym. I cooked my dinner. I watched the sun set. I remembered to breathe.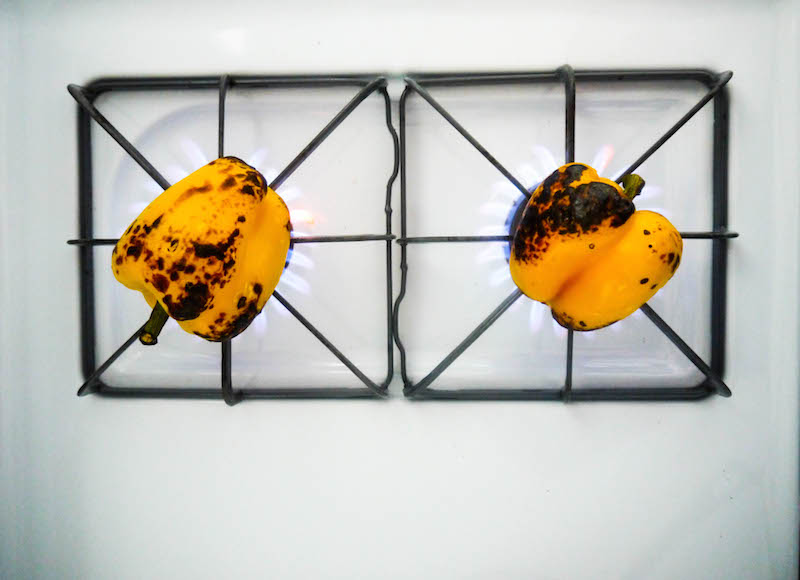 Charred Yellow Pepper Soup
serves 4
2 ripe, yellow bell peppers, washed & dried
1-2 medium yellow tomatoes, stems removed
1 yellow onion, diced
2 T olive oil plus more to top
salt
4 cups water or stock
1/2 cup raw almonds
2 cloves garlic, peeled
1/4 t smoked paprika
sherry vinegar
-Bring a medium pot of salted water to a rolling boil. Use a paring knife to make a a shallow X across the bottom of the tomatoes. Prepare an ice bath in a bowl and place in the sink. Lower the tomatoes into the boiling water and cook until the skin starts to peel back from where you made the X. About 2 minutes. Remove from the boiling water with a slotted spoon and place in the ice bath to let cool.
-If you have a gas range, turn 2 burners onto high heat. Place one pepper over each burner and cook, rotating occasionally with metal tongs, until the skins are completely charred. If you don't have a gas range, heat the broiler with a rack arranged in the upper third of the oven. Place the peppers directly on the rack (you may want to place foil on the rack below to catch any drips from a split pepper), and roast, rotating occasionally, until blackened and blistered. About 20 minutes.
-Remove the peppers from the flame and place in a heat-proof bowl. Cover with plastic wrap and let sit for 10 minutes, until cool enough to peel.
-While the peppers cool, remove the tomatoes from their water bath and remove their peels. Use your hands or carefully use a small knife to pull the tomatoes into large pieces over a bowl. Be sure to save the seeds and juice.
-Peel the peppers, pull apart, remove the seeds and stems and discard them. Cut the peppers into large pieces. Chop one of the garlic cloves roughly and set aside.
-Heat olive oil in a heavy bottomed soup pot over medium-high heat. Add the onion and sautee until fragrant and translucent. About 10 minutes. Add the chopped garlic, the smoked paprika and about 1t salt (less if using salted stock). Cook another 2 minutes then add tomato with juice and seeds, and peppers. Cover with enough water to just cover the vegetables–should be about 4 cups.
-Bring the soup to a boil then reduce to a simmer and cook for 10 minutes. While the soup is cooking, heat a small, dry pan over medium heat. Add the almonds and toast until fragrant but not burned. Pour the toasted nuts onto a clean cutting board and let cool. Set half of the almonds aside and roughly chop the other half.
-Place the soup, the whole toasted almonds and the remaining clove of garlic in a high speed blender and process until smooth. Return to the soup pot, taste, and adjust salt as needed.
-You can serve right away or chill and serve cold or hot later. To serve, ladle soup into bowls, add a splash of sherry vinegar to each bowl, along with a drizzle of grassy extra virgin olive oil, chopped toasted almonds, and a pinch of flaky sea salt. Cross off "make a healthy meal" from your To-Do list.