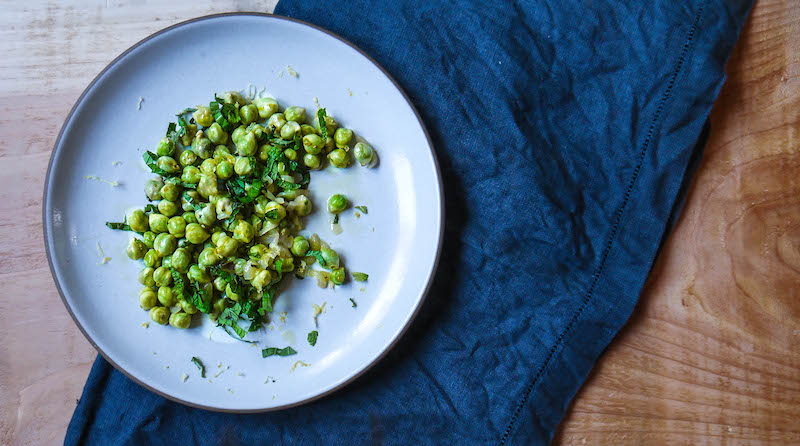 I don't find green garbanzos at the store often, but when I do, I can't resist. I love to see them piled high in their diaphanous pods–somehow more exotic in their fresh state than dried or canned or cooked to soft and flesh-toned. What I forget is that, like fava beans, you can fill your bag to the brim with the pods thinking you'll have a feast, but by the time you've freed the beans from their pods you're left with slightly tired fingers and only a small pile of reward. No matter. This plate of garbanzos just barely cooked with olive oil and shallot and a sprinkle of lemon and mint was the perfect mid-afternoon snack–reminiscent of fresh spring peas but slightly denser and earthier tasting. If only I had thought to fill the bag twice as full.
A Green Garbanzo Snack for One
1/2 cup shelled fresh garbanzos (probably about 1/2lb in pod)
1 small shallot, sliced
1 T extra virgin olive oil
zest of one small lemon
2 T fresh mint, chopped
salt and pepper to taste
Heat the oil in a small saucepan over medium-high heat. Once oil is shimmering, add the shallot and cook, stirring occasionally, until fragrant but not brown. Add the garbanzos and cook for just 2 minutes until bright green but not at all mushy. Pour into a small dish and sprinkle with lemon zest, mint and salt and pepper. Devour.