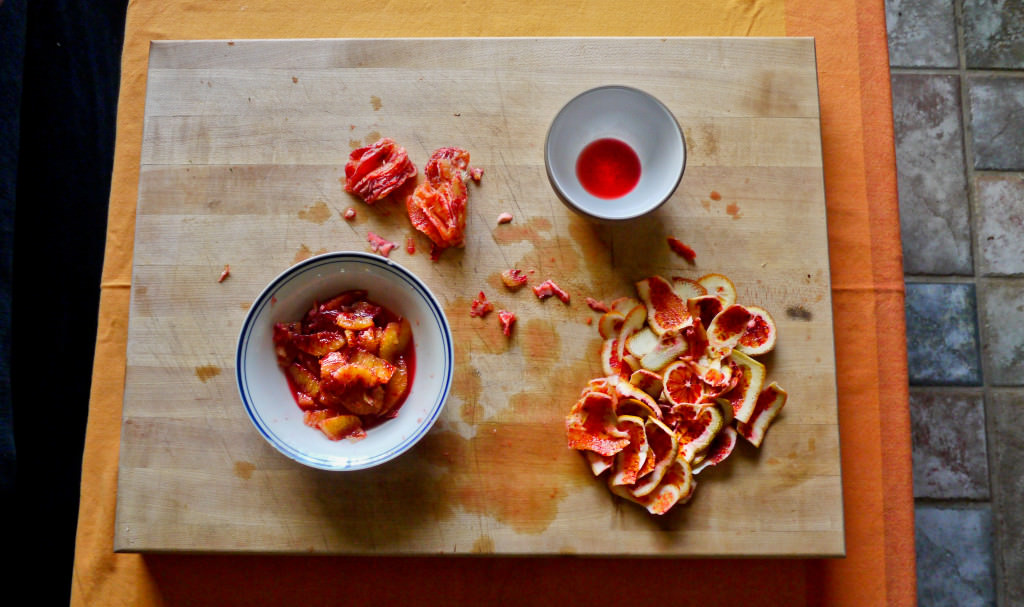 There is a perceptible lengthening to the days. The dusky reaches of the afternoon elongate and swell, pushing against the falling light. Still, it is soup weather and the skies are grey and my woolen socks are worn at the soles and rain keeps coming and I want a burst of brightness, a cool snap on my palette, a preview, a promise, of doors flung open, sweaters discarded, too much sun on my cheeks, bare legs on the porch steps, green in the trees and toes in the grass. I want a plate to lift me, just for a moment, and then I will be patient and I will wait for the days to come.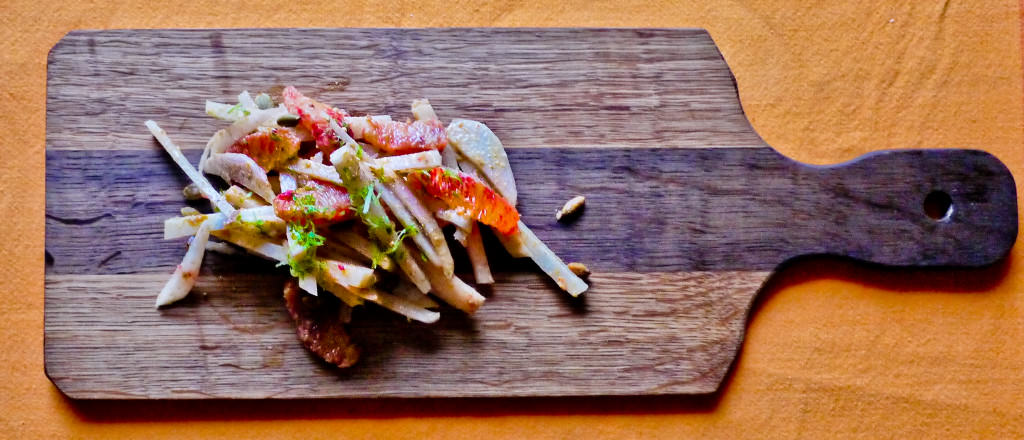 Blood Orange & Jicama Salad with Roasted Pumpkin Seed Dressing
serves 4 as a side
1/2 a medium jicama or 1 whole small jicama*
3 small blood oranges
1/4 cup raw pumpkin seeds
zest and juice of one lime
1/2 t cayenne pepper
1/2 cup olive oil
*Smaller jicamas tend to be firmer, crunchier and juicier (ie, better) than the larger ones which tend to get dry and woody.
Preheat the oven to 375 degrees. Spread the pumpkin seeds in an even layer on a baking sheet. Once the oven is at temperature, roast the pumpkin seeds until puffed and brown, about 20 minutes. Remove from oven and let cool on the baking sheet.
While the seeds are roasting, peel the jicama and slice into 1/8-inch round slices. Stack the slices on top of one another and cut into matchsticks. Place in a medium sized bowl and set aside.
Using a paring knife, cut the top and bottom off of each blood orange. Working one orange at a time, cut away the peel and pith doing your best not to cut the flesh of the orange itself. Once peeled, holding the orange over a bowl to catch any juice, use the paring knife to cut each orange segment out, sliding the knife carefully between the flesh and the pith that holds it in place. If you have never supremed citrus before, here is a visual aid. Place the orange segments in the bowl with the jicama and set any reserved juice aside to use in your dressing.
Place the pumpkin seeds in a blender or food processor with the blood orange juice and lime juice and process until very smooth. I use a Vitamix which results in a very smooth texture. If you have a less powerful blender you may find you want to eventually put your dressing through a sieve or food mill to get a smoother texture. Once the seeds are well blended, add the cayenne and, with the motor running, start adding the olive oil to desired texture. Taste, add salt, adjust olive oil, cayenne and lime juice as needed.
Toss the jicama and blood orange in the dressing until everything is well coated. Gently fold the lime zest into the salad and serve.