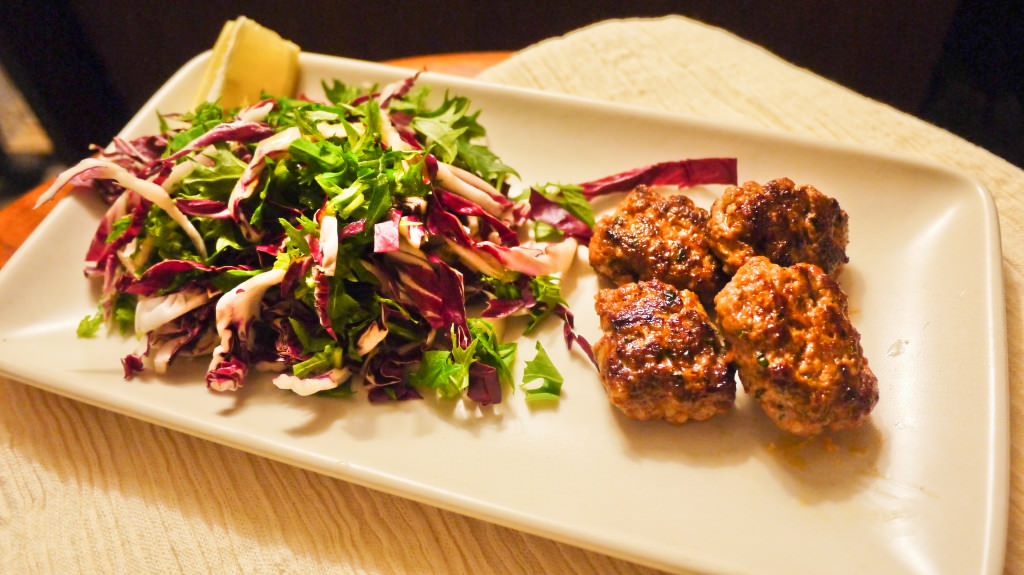 How was the food? That's was most people's first question upon our return from Turkey. Three words sum it up: Simple. Fresh. Delicious. You could taste each ingredient, understand its transformation from a whole food to what was on the plate. Each meal felt like a celebration of locally, seasonally driven cuisine without any of the self-conscious fanfare we have become so accustomed to in the west.
Salads were a mainstay in every meal–whether at a cheap kebap place or a high end restaurant–and they came undressed, served with a wedge of lemon, a bottle of thick, sweet pomegranate molasses, and mild green olive oil. Even if you didn't have a hankering for greens you could count on any meal showing up with sliced tomatoes and cold, crunchy cucumbers on the side of the plate, along with skinny, grilled peppers and a charred onion. The eggplant (or aubergine as it is called there) is beloved and showed up in various forms on every meze menu. Meze is, in my opinion, a perfect way of eating, a slow and adventurous meander at the start of a meal through small dishes–yogurt, baba ghanoush, clotted cream, salted cheese, beans in tomato sauce, tahini and harissa paste, nuts in honey, olives, and so on. Meze came–as all meals did–with bread. Basket upon basket of bread–crusty white loaves with soft interiors, dense flat bread cooked on a convex, round piece of metal with a fire beneath it, or oval shaped naan baked in a wood fire oven so it hollowed and puffed and came to the table looking like a miniature rendition of Moby Dick. And then there was lamb. We ate lamb shank in the east, lamb shawarma on street corners in every town we visited, and, best of all, kofte. Kofte is a meat ball, though it was always presented more in the shape of flattened footballs than traditional little nuggets. They are lightly spiced with cumin and paprika, bright bursts of mint and parsley pushing up through the richness of the meat, and they usually arrived with buttery rice pilaf, grilled vegetables, and the aforementioned salad. I made my version with more mint than usual and a side of minimalist tatziki sauce (read, chopped, seeded cucumber stirred into plain yogurt). While radicchio isn't a lettuce we ate in turkey, it's bitterness works well against the sweet of pomegranate molasses and the freshness of the mint in the kofte. I recommend some rendition of tatziki on the side, or at least a good scoop of whole fat  plain yogurt. Bread or not, if you're making a meal of this, I recommend brown rice, rice pilaf, couscous or bulgar. Don't forget the butter.
Kofte with Sweet & Bitter Salad
adapted from bon appetite
Makes about 20 meatballs (serves 4 as a starter or, with a grain, as a main)
for the kofte
1 lb ground lamb*
 1/4 of a white onion either grated or minced
2 garlic cloves, minced
1/4 cup fresh mint, chopped
1/8 cup fresh parsley, chopped
1/2 T ground cumin
1 T smoked paprika
1 t kosher salt
1 t ground black peppers
pinch of cayenne
for the salad
1 small head of radichhio
2 cups mizuna, arugula, or watercress
good green olive oil
pomegranate molasses
1 lemon, quartered
Preheat the oven to 300 degrees. Line a sheet tray with parchment paper and set aside.
Place all the kofte ingredients in a medium bowl and mix well. My preferred method is to use my hands to mix and squeeze everything together until it's well combined.
Dampen your hands and, working with about 2 tablespoons at a time, form the mixture into slightly oblong, slightly flattened meatballs. They should be about 1-inch long and 1/4-1/2-inch thick. Place the finished kofte on the sheet tray.
Before cooking the kofte, make the salad.
Cut the radicchio in half and place each half flat-side down on a cutting board. Starting from one side of the first half, cut into thin ribbons. Repeat with the other half. Tear or cut your green of choice to a similar size and toss the two together in a small bowl. Place a heaping handful of salad onto each of the plates you plan to eat off of. Place a lemon wedge along side each mound of salad.
To cook the kofte, heat a cast iron or heavy-bottomed pan over medium high heat. Add a tablespoon of olive oil. Once the oil starts the shimmer place the kofte in a single layer in the pan, without overcrowding. Cook until just done, flipping each kofte once. About 7 minutes. Transfer the cooked kofte to an unlined sheet tray and place in the oven to stay warm while you do the second batch. When the second batch is finished you can transfer the whole pan to the oven to stay warm while you plate the first batch.
Use tongs to transfer 4 or 5 meatballs to each plate beside the mound of salad. Drizzle the salad with olive oil and molasses. Squeeze the lemon over everything on the plate. If you make tatziki or have plain yogurt, it is delicious to take a stab of salad and half a kofte on the end of your fork and dip it in the yogurt so you get all the sensations, temperatures, textures and flavors in a single bite.
 *Lamb is much less frequently featured on menus and in groceries stores in the US than pork, beef or chicken, but I tell you, it's worth seeking it out. From a health standpoint, lamb is a great stand-in for beef if you're craving red meat. It's generally leaner than beef, very high in Vitamin-B and protein, and, most importantly is delicious. Grass fed lamb is a great source of Omega-3 fatty acids. As with all meats, stick to the organic and/or grass fed to avoid hormones and/or antibiotics that show up in lots of conventionally raised food animals.