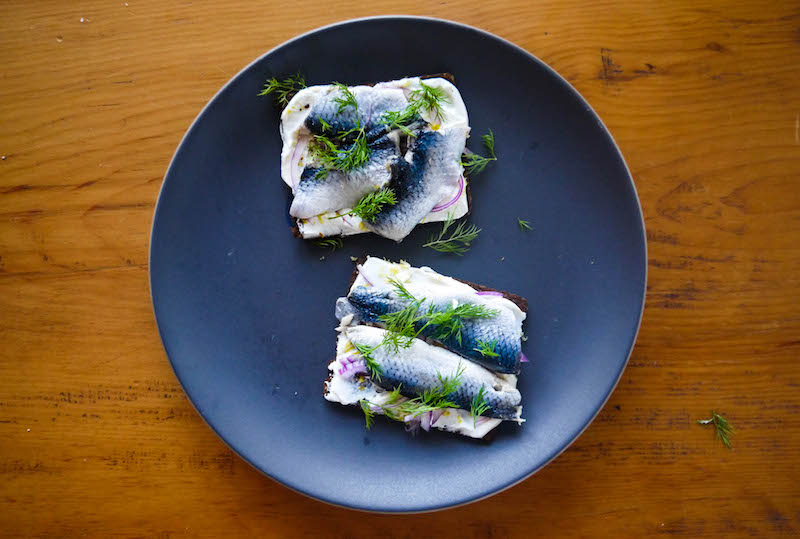 I've always liked the little fish. There is a certain utilitarian satisfaction in peeling back the lid on a tin of sardines, scooping out one fat little body at a time—complete but for its missing head—and eating the whole tin, bones and all, with nothing more than a jar of mustard and and sleeve of salty crackers. This is a meal I have eaten often—on camping trips, in the middle of a day of rock climbing (to the joy of nearby dogs and the chagrin of nearby climbers), or in the post-workout-give-me-food-before-I-eat-my-own-arm-off stage of ravenous delirium. It never disappoints.
We've all gotten the memo by now to eat more Omega-3 fatty acids for improved brain function, immune function, better skin, more balanced hormones, and reduced inflammation in the body. The fish most people associate with high Omega-3s is probably the salmon. As a result, fish counters now proudly display slabs of 3 or 4 different types of the fatty pink fish—farmed, wild, Alaskan, Atlantic, Norwegian, Coho, King. I'm as seduced as anyone by these sexy cuts of fish, filleted to take center stage on the plate. Recently, however, I've been scaling back on the celebrity fish (halibut, tuna, salmon, sea bass) and falling in love anew with the supporting cast.
Sardines, herring, smelt and anchovies are Forage Fish. They're the little guys that the bigger fish feed on. They have a very short life span, they reproduce quickly and in abundance, and, because they are low on the fish food chain, they also tend to be very low in contaminants like Mercury. These little fish are plentiful and in less demand than their flashier, fleshier predators, so they're also a more sustainable seafood choice.
Most importantly, they are delicious, versatile, inexpensive, and packed to the gills (yup) with good nutrition. One can of sardines, for example, will get you around 14 grams of complete protein (all the essential amino acids), B12 vitamins, lots of Omega 3's, and plenty of zinc, iron, phosphorus and calcium, all for around 200 calories.
Forage fish have various culinary uses. I tend to think of anchovies as a condiment of sorts—they add deep, smoky, very salty flavor to everything from salad dressing to pasta sauce to roasted meats. I like herring best in pickled form but it's delicious fresh if you can find it. Canned sardines can be gussied up into elegant main courses and in-a-pinch hors d'eouvres. That said, if you've never tried them with a sleeve of saltines and a jar of mustard, do yourself a favor, and delight in that simple pleasure.
Note: As with all fish, look for wild caught and sustainably caught fish for the best nutrition and the best environmental practices. 
Pickled Herring Sandwich on Rye
2 pickled herring filets
2 pieces very dark rye bread
1/4 red onion, sliced as thinly as possible
about 2 T plain skyr yogurt or other strained yogurt
zest of one lemon
red pepper flakes
a few sprigs of dill
-Spread the yogurt thickly across the two pieces of rye bread. Sprinkle with red pepper flakes and lemon zest. Top with a thin layer of red onion slices and herring and garnish with dill. I eat these open faced but you could build it as a close-faced sandwich or cut the bread into small squares for an appetizer. Other good additions include shallots, mustard, sumac, capers, aleppo pepper, arugula……you get the idea.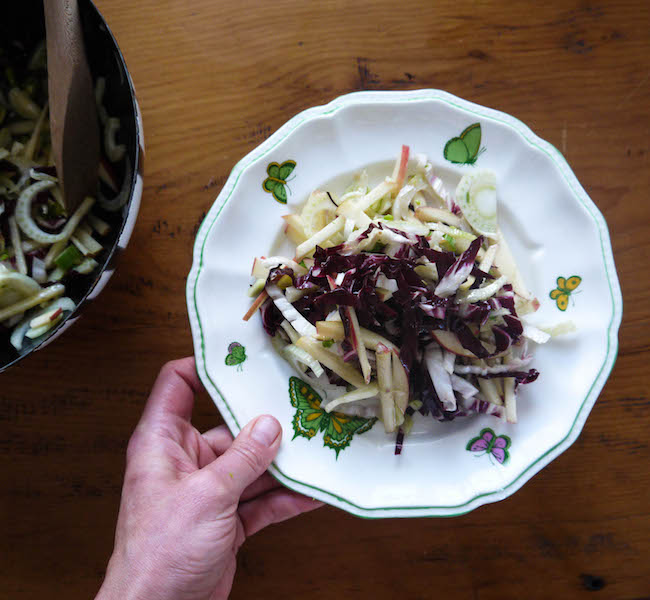 Fennel, Apple & Radicchio Salad with Anchovy Vinaigrette
For the Salad
1 medium head of fennel, thinly sliced
1 small, firm, very tart apple, cut into matchsticks
4-5 leaves radicchio, thinly sliced
For the Dressing
4-5 anchovies packed in olive oil
1 clove garlic
1 t dijon mustard
juice of one lemon
1/4 extra virgin olive oil
lots of cracked black pepper
-Place all the salad ingredients in a bowl and toss to combine.
-If you have a mortar and pestle, use that to make a paste of the anchovies and garlic clove. If not, grate the garlic clove into a small bowl using a microplane. Use a sharp chef's knife to very finely dice the anchovies, until they are paste-like. Add them to the garlic.
-Stir the dijon mustard and lemon juice into the anchovy-garlic paste. While stirring, slowly pour in the olive oil until the dressing is emulsified. Add desired black pepper. Taste and adjust seasoning as needed.
-When ready to eat, pour some of the dressing over the salad, taste, and add more dressing if needed. This will make more dressing than you need which means you'll have some leftover to use on Romaine lettuce, roasted carrots, raw kale salad, etal…