Fall is here. The valley is a rolling patchwork of umber and ochre and the arc of the sun much tighter now. Night is long and clear. With the seasonal change comes the first head cold of the winter, and I, like many of my friends, came down with a pretty nasty one last week. One of the worst things about a head cold is the feeling that all the senses are dulled by a thick wall of mucus. Sorry, but it's true. We often describe it as being in a fishbowl or being underwater, but what we really mean I think is that our heads feel full of gunk. Nothing sounds or smells or tastes the same when your head is full of mucus. I for one, want nothing more in those times than to eat and drink things that will slice right through all of that gunk. So along with my steaming soups and fresh ginger tea, I found myself craving two particular vegetables that aren't always on my shopping list: radishes and brussel sprouts. In both cases I opted to eat them raw in fresh, crunchy, colorful salads that are delicious on their own or as accompaniments.
Watermelon radishes are one of my favorite California winter vegetables. The color alone is worth finding a way to eat them. Aside from being beautiful, they contain a volatile ether that dissolves mucus in the body. Their antibacterial and antifungal properties don't hurt either. I've been eating them like apples and while that may be a bit intense for many people, you can feel the effect in your sinuses immediately.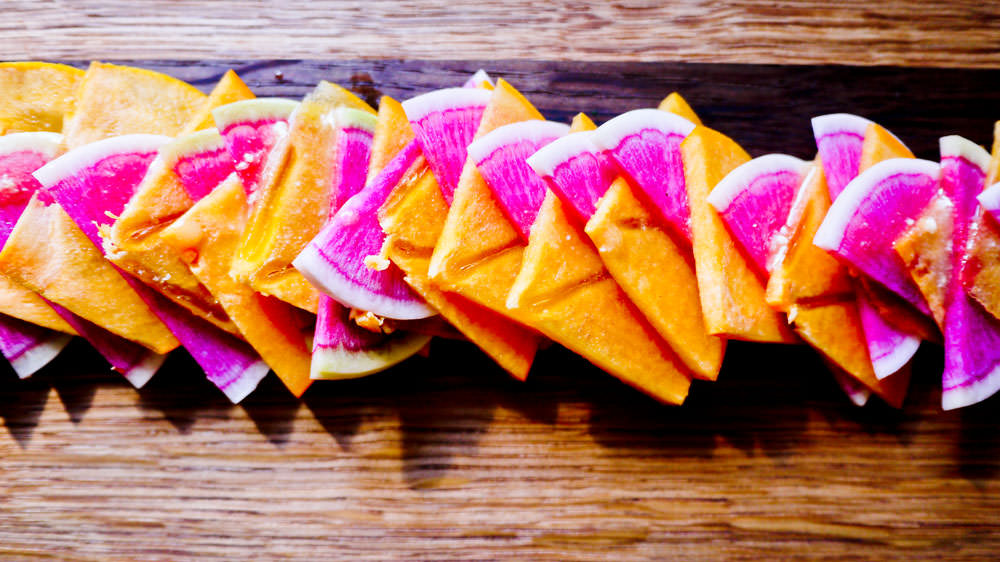 To balance their peppery bite I've also been eating them with persimmons, which I find too sweet without a bitter or spicy counterpart. Turns out the winter fruit was also helping soothe my sore throat.
Brussel sprouts are in the brassica family which is a real powerhouse in the vegetable world. Brassicas are alkalinizing, anti-cancerous, and full of vitamins and minerals.
Brussels in particular are great detoxifiers, flushing stored fatty wastes from the body by stimulating the kidneys. I particularly love them roasted but seeing as how my oven is broken I have been eating them raw in a slaw-like salad along with baby kale.
These salads are not just for the ailing. They are delicious and so simple to make so eat them all winter long if you can. You might find that seasonal head cold never arrives.
Persimmon & Watermelon Radish Salad
serves 2 as a main dish or 4 as a side
1 firm Fuyu Persimmon
1 or 2 watermelon radishes
1 t sweet white miso
1 T rice wine vinegar
1 T toasted sesame oil
juice of half of a lime
Wash and dry the persimmon and cut off the stem at the top. Slice the persimmon in half from top to bottom. Slice each half in half again, vertically. Working one quarter at a time, place the fruit on a cutting board with a flat side down and slice very thin slices. You can also do this on a mandoline. Repeat with each quarter.
If you have large watermelon radishes, cut in half from top to bottom. Working one half at a time, place flat side down and slice to the same thickness as the persimmons.
To make the dressing, whisk the miso, vinegar and lime juice together in a small bowl to make a thick paste. Slowly add the sesame oil. Taste and adjust proportions as needed.
You can arrange the salad in alternating slices as I did and drizzle with the dressing or toss together with dressing in a bowl.
Raw Brussel Sprout and Baby Kale Slaw with Harissa-Toasted Pecans
serves 2 as a main or 4 as a side
12 small brussel sprouts
1 handful of baby kale with stems or 2-3 leave of lacinato kale, destemmed
1/2 cup raw pecans
1 T harissa
2 T olive oil
1 small shallot diced
1 t dijon mustard
1 T raw apple cider vinegar
salt and pepper to taste
Wash the brussel sprouts and kale. Baby kale is idea for this salad since it is very tender and does not need to be destemmed. If you can't find truly baby kale you will want to de-stem the kale first and try to choose the smaller, more tender leaves.
Trim the base off each brussel sprout and halve from top to bottom. Working one half at a time, thinly slice each half so you end up with thin ribbons of brussel. Place in a large salad bowl.
If you are using baby kale simply chop finely and add to the bowl. If you are using larger kale, once you remove the stem, stack the leaves on top of one another and roll the kale along the long edge so you end up with one long cigar-like leaf.Starting at one end of the roll make very thin slices down the cigar so you end up with long thin ribbons of kale. Add to the brussels.
To star the dressing, dice the shallot and place in a small bowl with the salt, vinegar and mustard.
Place the pecans in a small pan. Combine one tablespoon of the olive oil with the harissa in a small bowl and pour over the nuts. Stir until the nuts are well coated. Over medium high heat, toast the nuts until warmed through but not burned. Remove from heat and chop roughly.
When the nuts are finished, add the other tablespoon of olive oil to the shallot mixture and stir until emulsified. Taste and add salt and pepper as needed. Pour over the slaw and toss very well until everything is coated with dressing. Gently toss the nuts into the salad and serve.
Let the healing begin!