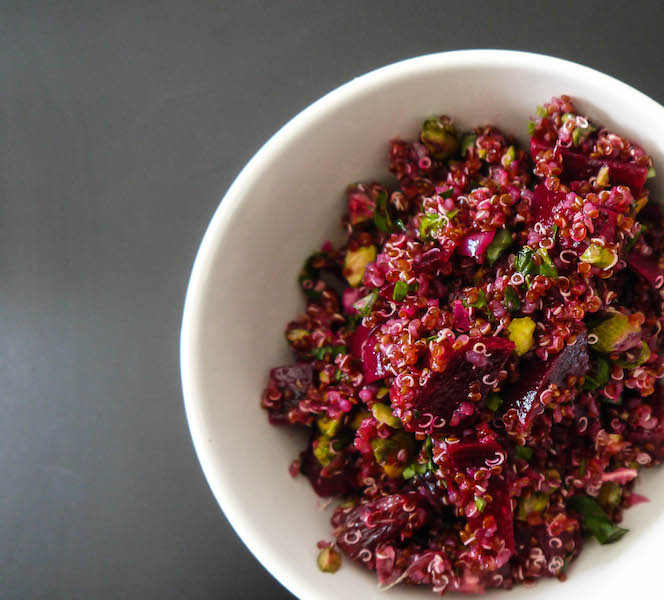 I don't know what to say about this salad other than it built itself in my brain on the way to the market one day. Red on red on red–a layer of earthiness, a layer of sweet, a pungent burst of acid. Maybe it was the long hours of work or the stretch of gloomy weather, but whatever the reason I wasn't feeling my usual sprightly self. Sometimes my cravings are color coded, unspecific to a vegetable or fruit, defined instead by an energy encapsulated in a hue. I wanted deep crimson, dripping with vitality, blood red, as if the juice from the beets and dark orange could go right from my mouth into my blood stream. I wanted something fortifying but without heft. Something zippy. Something bright. This is a simple and beautiful dish that makes a perfect light lunch on its own or a lovely companion for fish or grilled meat. Maybe it's placebo affect, but I swear, a bowl of ruby food will put some pep in your step.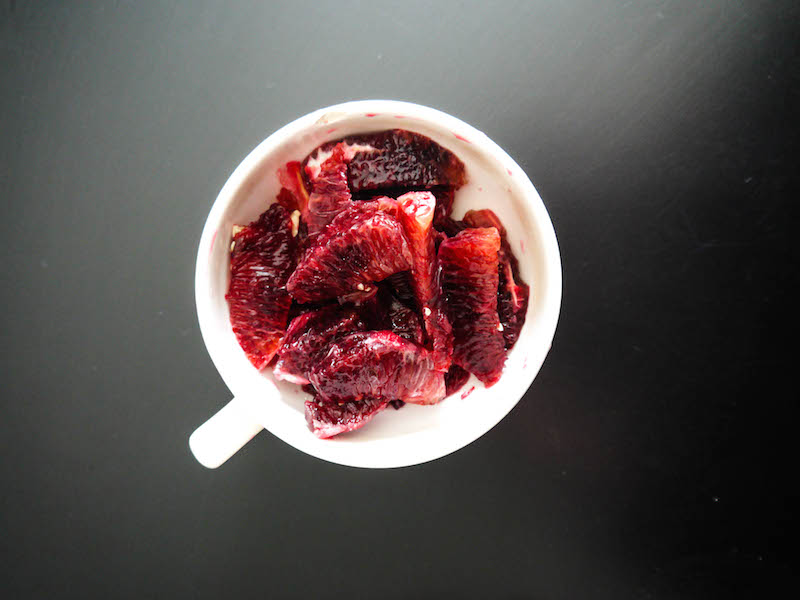 Ruby Food
1 cup red quinoa
2-3 medium red beets, greens & stems trimmed off
2 small blood oranges
1/4 cup shelled pistachios, unsalted
1/8-1/4 cup olive oil
a splash of apple cider vinegar
flaky sea salt
1 small shallot, diced
1 small bunch basil, chopped
Rinse the beets and place in a small pot. Cover with water, bring to a boil, then reduce to a simmer and cook until the tip of a knife goes easily through each beet–about 40 minutes.
In another small pot, bring 3 cups of salted water to a rolling boil. Pour in the quinoa and cook until the little tails of the grain unfurl and the quinoa is tender but not mushy. About 20 minutes. Remove from heat and pour into a fine mesh sieve placed over a sink. Rinse with cold water to stop the grain from overcooking.
In the base of a large salad bowl combine the shallots and splash of apple cider (or red wine) vinegar. About 2 tablespoons. You want the shallots to sit in the vinegar for about 10 minutes, stirring them occasionally, before adding any other ingredients to the bowl.
While the shallots are marinating, supreme the two blood oranges, reserving as much of the juice as possible in a small bowl. Add the reserved juice and orange pieces to the salad bowl with the shallots and squeeze any remaining juice you can from the remaining membrane of the oranges before discarding.
When the beets are done, drain the water and run the beets under cold water. Use your fingers to push the skins away from each beet and cut each beet into whatever size piece you desire. I went for 1/4-moons about 1/2-inch thick.
Add the beets and quinoa to the salad bowl and add 1/8-cup of the olive oil and a big pinch of salt and stir well. Taste and adjust oil, vinegar and salt as needed. It should taste zingy and bright and have a satisfying richness to it which sometimes requires more than the first 1/8-cup of olive oil.
If you like, toast the pistachios in a dry pan over medium heat until fragrant but not burned. They are delicious raw as well. Chop them roughly when cool.
You can make this up to this point up to a day ahead of time and store in the fridge. Just before serving, taste the salad one more time and adjust seasoning as needed. Gently fold in the basil and pistachios. Sprinkle with flaky sea salt and grind some fresh black pepper over the top. Vim! Vigor!