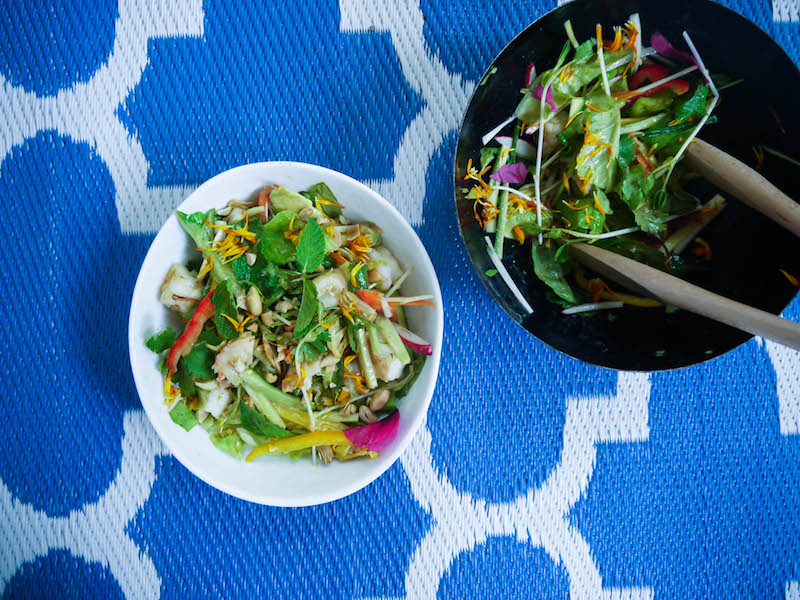 Ya'll, late spring in Texas is not for the faint of heart. The nighttime temperature rarely drops below 70, humidity is near 100%, and when the sun comes out from behind the clouds it's like slamming into a hot metal wall. It's the kind of weather that makes your eyelashes sweat. Sitting in the shade, one must remain as still as possible to try to stay cool, and even still, just breathing will allow a thin sheen of sweat to coat your skin beneath your clothes. The streets, mid-day, are empty in a way reminiscent of brutally cold winter days in New England. We're all inside, cocooned in air conditioning. Still, I won't be deterred from going outdoors. Getting some time in green space, even if it's just eating lunch in my backyard, remains an essential part of my daily life. I feel calmer, more focused, and more satisfied with my day if a portion of it is spent in the fresh air–even if that air can practically be sucked through a straw. (As it turns out, I'm not alone in seeing the benefits of being outdoors.)
A few days ago, during a break in the rain, I braved the unyielding heat and went for a hike. Weeks of storms followed by sun had turned the Greenbelt into a jungle–wild and overgrown, lush and muddy. I could feel the skin around my nail beds sweating, but carried on, delighting in how transformed the landscape had become over the past few months; the sound of the swollen creek sluicing through the limestone boulders; a lone turtle in a sunny eddy, treading water, face to the sky, eyes closed and so serene.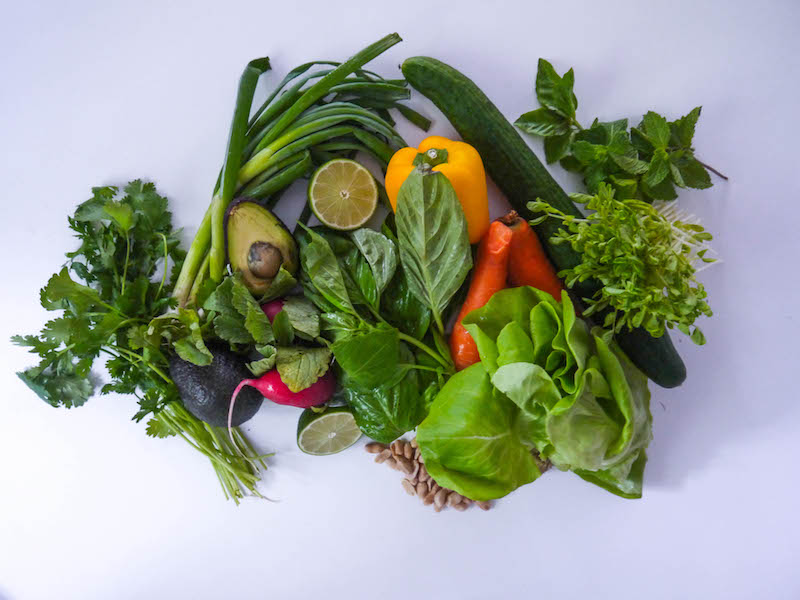 In this heat, I gravitate towards raw foods and towards Asian flavors. I want spicy, crunchy, cool, acid, salty, pungent, herbaceous food. As many of you know, I am a great fan of spending one day a week doing some meal prep so that when you come home ravenous from work or a muddy hike or whatever else your day has brought, your meal is already half-way done. Lately my meal prep has involved pre-slicing a lot of vegetables that I can eat raw, so that they can be thrown into baggies as portable snacks, plunged into hummus, wrapped up in collard leaves, or, as they were the other day, turned into a big and satisfying meal of a salad.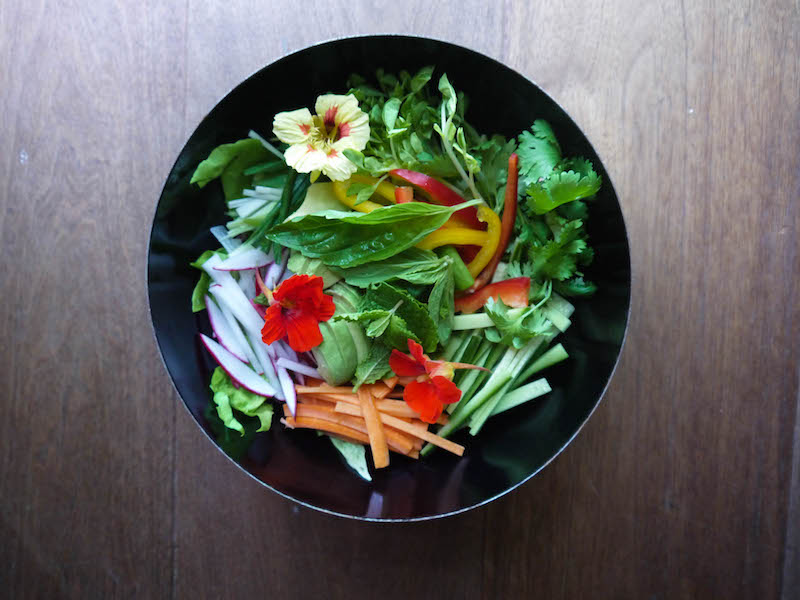 This is by no means an authentic Asian dish, but rather, draws on the flavors and components of fresh spring rolls, allowing for much improvisation and a very personalized ratio of crunch/acid/salt/herb…..you get the idea. You can omit the shrimp entirely or swap them out for tofu, chicken, poached fish, or sautéed mushrooms. You can add cooked rice noodles or soba. If you aren't a peanut person, try almond butter or cashew butter or use coconut milk to add creaminess. This is a great summer lunch or light dinner, and while it's not necessary to run around outdoors before eating it, like so many things, it will taste so much better if you do.
Shrimp Spring Roll Salad
Serves 2-4
1 lb wild-caught shrimp, shelled & deveined
5 cloves garlic, thinly sliced
1/4 cup olive oil
For The Salad
1 head butter lettuce, sliced or torn
1/2 red, yellow or orange bell pepper, julienned
1 medium sized cucumber, seeded & julienned
2 medium carrots, julienned
2 scallions, halved and julienned
2-4 radishes, julienned
1 small avocado, thinly sliced
1 big handful whole basil leaves
1 big handful cilantro leaves
1 big handful fresh mint leaves
1 big handful mung bean sprout, pea shoots or sunflower sprouts
edible flowers (optional)
1/2 small jalapeño, thinly sliced (optional)
1/4 cup roasted, salted peanuts
For The Dressing
2 T smooth peanut butter
2 T toasted sesame oil
juice of 1 large lime
1 t Asian fish sauce
1-2 t nama shoyu or tamari
1 t honey
-In a large salad bowl (or in individual bowls if you prefer), make a bed of lettuce. Add the remaining vegetables in different "compartments" on top of the lettuce so you have a small pile of each covering the lettuce. Add the herbs and sprouts in a similar fashion, keeping the flowers off for now. Set the salad aside. Note, if adding noodles to the dish, place the noodles on top of the bed of lettuce as a second "bed" layer.
-In a small bowl, whisk together the salad dressing ingredients. Thin with warm water as desired. It should be very limey, fairly salty, and just a touch sweet. Adjust ingredients as needed using very small amounts at a time until you have your desired balance and consistency. Set aside.
-In a large pan, heat the olive oil over medium high heat until shimmering but not smoking. Add the garlic and cook, shaking the pan back and forth, until uniformly light brown. Remove the garlic with a slotted spoon and place on a paper towel in a single layer to cool.
-Add the shrimp to the garlic oil and cook, stirring occasionally, until just cooked through, about 8 minutes depending on the size of the shrimp. They should be bright pink and not at all dry or rubbery looking. When you cut into one the shrimp should be opaque and very moist. Remove with a slotted spoon and spread in a single layer on a paper towel-lined plate. Let cool slightly then chop roughly.
-If serving the salad out of one communal bowl, dress the salad lightly and toss well until everything is evenly coated. Add the chopped peanuts, shrimp and flowers to the top of each plate of bowl and serve extra dressing on the side. Alternatively, if you are plating each salad individually, top each bowl with the peanuts, flowers and shrimp and serve dressing on the side so each person eating can decide whether to mix the ingredients altogether or keep them in "compartments".