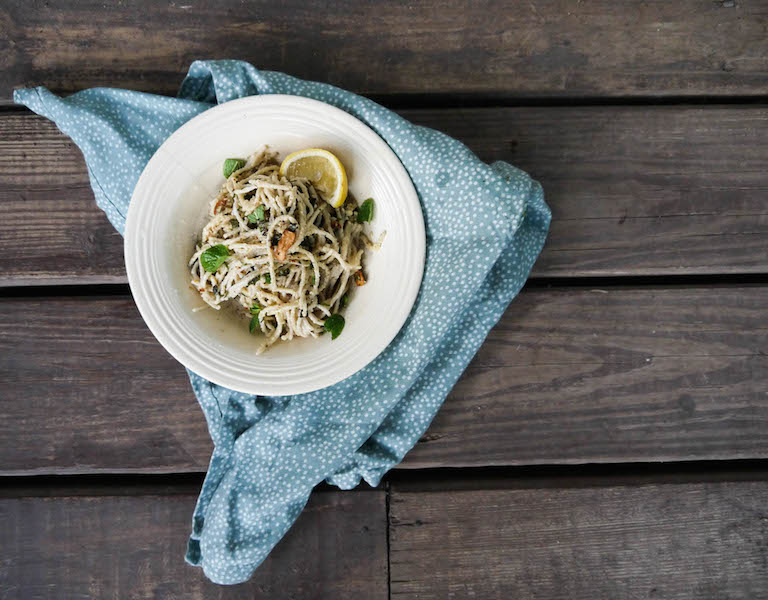 Some of my favorite recipes are born out of an equation I suspect most of you will find familiar: Fatigue + Gnawing Hunger + Little Desire to Cook. These are desperate times, usually at the end of a long work day and the result is often bland and unsatisfying, or a mash-up muddle of flavors from leftovers combined in a bowl. At worst it is barely something that resembles a meal at all (read, eating cold beans out of a can before you've taken your coat off). At its best, however, the resulting meal is a satisfying, nourishing dish prepared quickly enough that you aren't even tempted to start snacking while you cook. I made one such dish recently using what I found in my pantry and fridge, and have made it several times since then.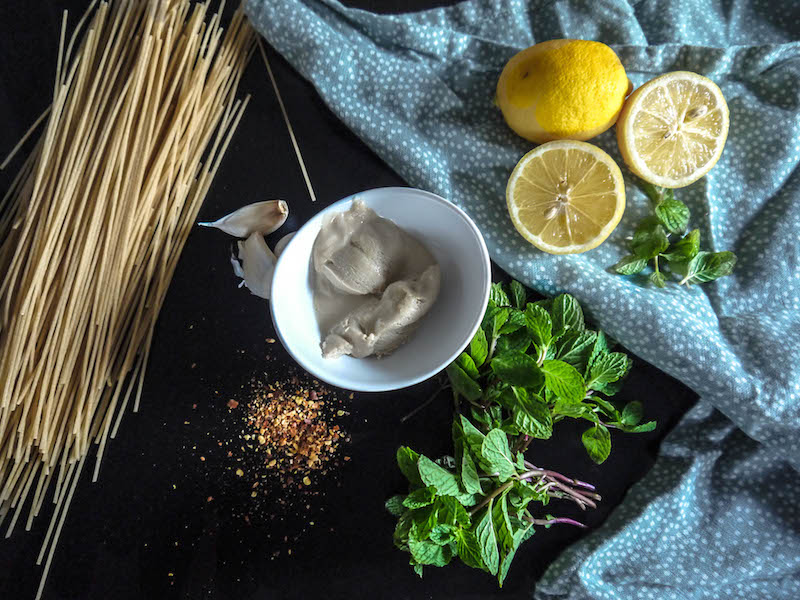 Pasta has always been a part of my diet. In childhood it was usually covered in my dad's delicious meat sauce or came as a casserole of macaroni and cheese with cubes of ham and bursts of bright green peas. In high school I fell for angel hair with very light marinara and lots of fresh basil, and after college, on my first trip to Italy, I discovered the incomparable world of fresh pasta. These days, my diet is very light in wheat and gluten so the box of dry pasta I stock in my pantry is made from brown rice. Pasta is an amazing carrier, it's different shapes and weights allowing for both subtle flavors and the very bold, silky sauces and those with a bit more bulk. This vegan sauce mimics an alfredo in richness and texture, but carries none of its heft. The tahini that acts as the base for the sauce is a great source of unsaturated fat and assimilable protein, not to mention calcium, Vitamin E, and blood building minerals. The nutritional yeast will give you close to your daily dose of B vitamins and adds a depth of flavor to the dish. The fresh lemon and mint lift the sauce out of its creaminess, and the red pepper is just the right type of kick at the end of each bite. Best of all, this took 10 minutes to make, chopping time included. Satisfying + Healthy + Delicious + Fast = A very good argument against eating cold beans from a can in your overcoat.
Spaghetti with Tahini & Mint
serves 2-4
16oz gluten free or whole wheat spaghetti
4 cloves garlic, thinly sliced
2 lemons
2 T tahini
2 t nutritional yeast flakes
2 T olive oil
1/4-1/2 t red pepper flakes
1/2-3/4 cup mint leaves, chopped
1 t salt plus more to garnish
-Bring a large pot of salted water to boil and drop the spaghetti in, stirring gently with a fork or wooden spoon to keep the strands from sticking to one another.
-While the pasta cooks, heat the olive oil in a saucepan over medium-high heat until it starts to shimmer. Add the garlic and red pepper flakes and cook, stirring, until the garlic lightly browns. About 3 minutes. Remove the pan from heat and whisk in tahini, nutritional yeast, salt and juice of one lemon. Keep stirring until you have a smooth sauce. If the sauce is overly thick (as in, still a paste-like consistency), whisk in water from the pasta pot 1T at a time. Taste, being careful not to burn your mouth, and adjust salt as needed.
-Cook the pasta to al dente, drain, then add to the sauce pan with the sauce and stir stir stir until the spaghetti is evenly coated in the sauce. Serve the pasta into bowls, covering each one with a handful of chopped mint, a sprinkle of flaky sea salt and lots of black pepper. I like to put a wedge of lemon on the side of each dish for a final squeeze before eating.