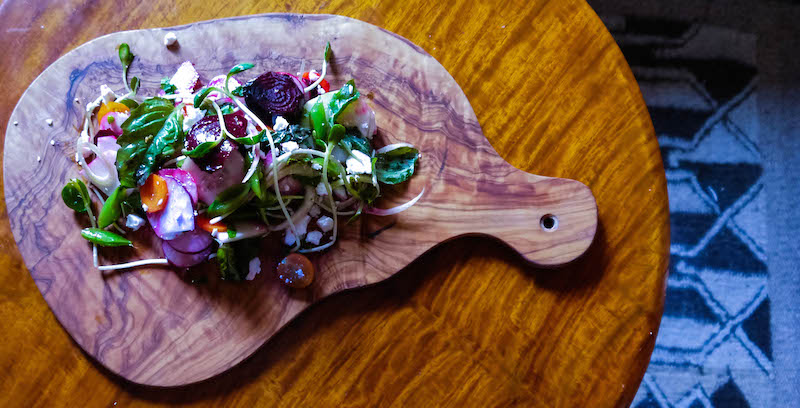 I want crunch. Something for my teeth to gnash against. Something to snap across my tongue. I want only that which I can pull from the fridge or the sun-warmed counter. The stove is for the coffee percolator and an egg lightly scrambled. I want the foods of the sun, little orbs of light and a drink of water contained in cool flesh. I want the very young, the very bright, the sweet and bitter, the pungent and clean. I want it plain on the plate, just as you are, perfect and dirty and straight from the ground. Give it to me raw. Green. Cold. These are the salad days.
Summer Crunch Salad
serves 4 
half a cucumber, peeled
1 small beet, peeled
1 large carrot, peeled
5-6 small easter egg radishes
a handful of sugar snap or snow peas
1/2 bulb of kohlrabi
a handful of cherry tomatoes
1/2 bulb fennel
1/4 cup fresh mint leaves, chopped
a large handful of basil leaves, roughly torn
a large handful of sunflower sprouts
1/4 cup olive oil
1/2 t grade B maple syrup
1/8-1/4t cayenne 
juice of half a lemon
large pinch of salt
1 clove garlic, grated
raw goat's milk feta or other soft cheese to garnish (optional)
-Slice the cucumber, carrot, radishes and fennel very thinly and place in a medium sized bowl.
-If the kohlrabi skin is very thick you may want to peel it before chopping, even though you will lose the beautiful color. Slice thinly and add to the bowl.
-Slice the peas on the diagonal into thin but not too thin strips and add to the bowl.
-Slice the beet very thinly and set aside in a separate bowl
-In a small bowl whisk together the lemon juice, garlic, mint, cayenne, maple syrup and salt. While stirring, add the olive oil and whisk until emulsified.
-Pour 3/4 of the dressing over the salad bowl and toss well. Pour the remaining dressing over the beets and toss well. Gently fold the torn basil and sprouts into the salad or, if plating the salad, place some of the basil and sprouts on each plate and spoon the dressed veggies over the top.
-Add the beets last so the color doesn't bleed into everything else.
-Garnish with crumbled raw feta or other soft cheese and lots of cracked black pepper. Crunch away in the shade of a tree or with the sun on your face.
*leftovers without the leaves and sprouts, will keep in the fridge for 24 hours