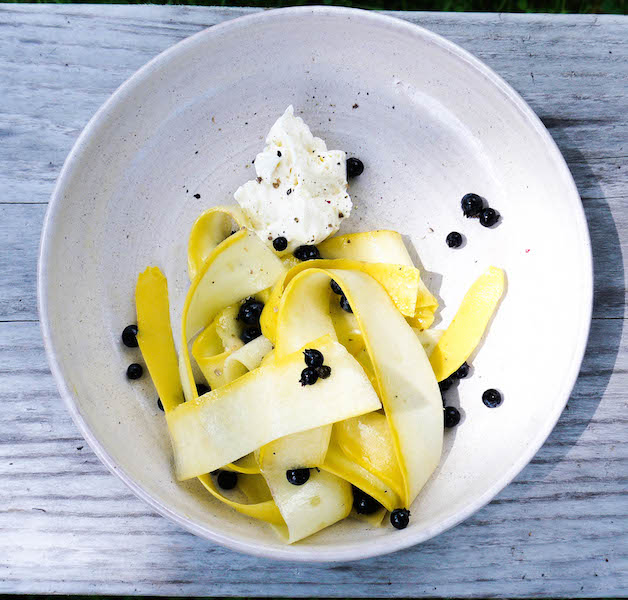 It's here. Those glorious few weeks when everything seems to bloom and ripen at once in Downeast Maine. Cardboard crates of blueberries fill the shelves at grocery stores and the flatbeds of trucks on the side of the road. Makeshift farmstands adorn driveways every few miles with signs BEGGING you to take the extra cucumbers and summer squash as you drive by. For free. Take 'em. The tomatoes in our garden which stayed stubbornly green and hard for weeks have suddenly grown swollen and heavy and adopted a crimson hue. The growing season here is short and before we know it the market will be full of storage vegetables and winter greens. But for now I greedily scoop up every bite of summer I can get my hands on, and eat simple, virtually unadorned meals.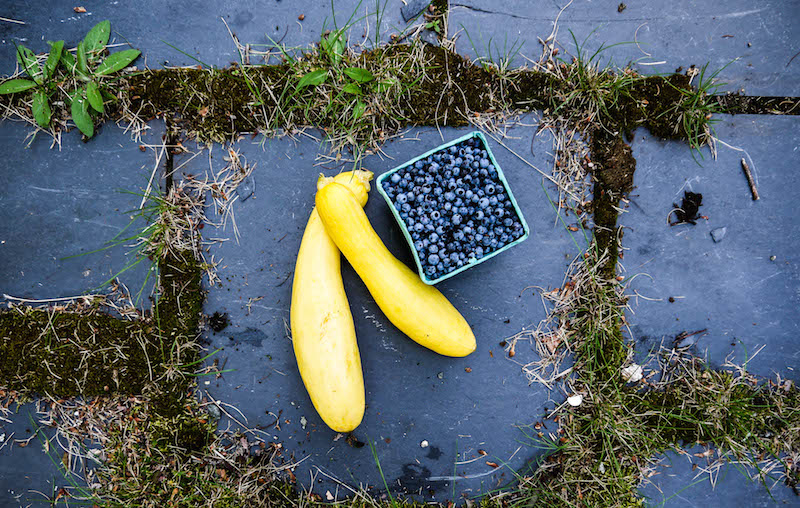 The flavors in this salad are subtle. I used a fromage blanc from Tide Mill Farm–the most delicious local dairy–that had green onions mixed into it. If you use a plain fromage blanc you may want to sprinkle chives or minced shallot onto your salad. The quality of your ingredients matters. Always. But especially here in this basically naked dish. If you can't find wild blueberries fresh, experiment with pickling whatever berry is local in your neck of the woods right now. The point of this dish is to marry the flavors of summer in a simple way. If you can't find these exact ingredients, I hope this at least inspires you to try some new summer combinations of your own. And I'd love to hear what you come up with! Enjoy these final weeks of summer. They'll be gone before you know it.
Summer Squash with Pickled Blueberries & Fromage Blanc
serves 4
1/2 cup wild Maine blueberries
2 medium summer squash
1 cup apple cider vinegar
2 garlic cloves, smashed
1 T coriander seed
1 T black pepper corns
1 T fennel seed
2 bay leaves
1 T raw honey
1 T salt
very good, green tasting, extra virgin olive oil
fromage blanc
Make the pickle brine by combining vinegar, garlic, coriander, pepper, fennel, bay leaves, honey and salt in a small pot. Bring to a boil then remove from heat and let cool to room temperature or slightly warmer. Place the berries in a glass jar or bowl and cover with the brine. Let sit at least one hour before using. The longer they sit, the brinier they become and I found my first attempt at this salad could have used more acid. After letting the blueberries sit overnight, the salad had more zing.
Using a vegetable peeler, slice the squash into thin strips and place in a bowl. Drizzle with olive oil and salt and toss gently until well coated.
Divide the squash onto four plates. Scoop a generous spoonful of fromage blanc onto each plate, next to the pile of squash. Add the blueberries and a teaspoon of the pickling brine to each pile of squash. Season with salt and pepper as needed.