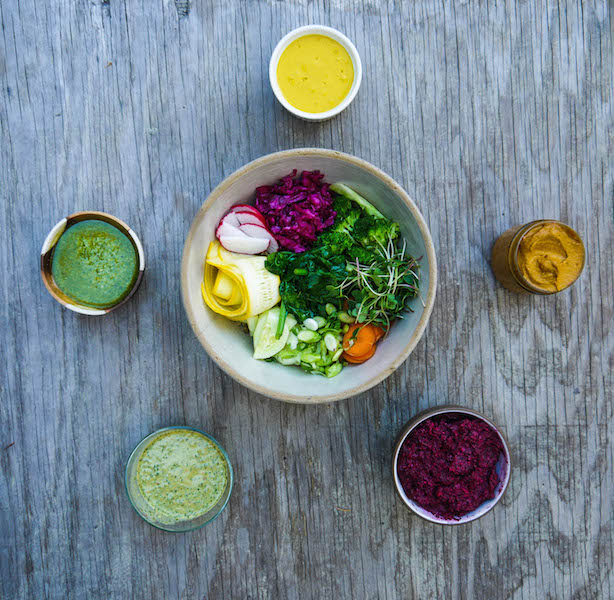 Two weeks ago I left the sticky heat of the heartland for the the California mountains, and, dear readers, I have to confess, I haven't been spending much time in the kitchen. My excuse is that it's summertime, and after months in the city I am completely intoxicated by the mountains. Inspiration comes in morning walks, no headphones here, just the three note song of chickadees, and the soft gurgle of streams restored by recent rains. The pines are pushing out their waxy, new needles, soft and plush and startlingly green. The lakes are Caribbean blue when still, then churned to a deep indigo with the afternoon winds. I'm fed by movement–long days in the mountains, high above the Tahoe basin, where the air gets thin and the sun gets white, and somehow, after so many hours, my muscles still manage to carry me down into the soft-floored forest and the cooling twilight. My meals–usually such a central part of my creative thought process–are in a stage that I call "functional food." These days it's about quality fuel and quick preparation, with, of course, no loss of flavor. Cue the Abundance Bowl.
I'm not sure when this term originated, but if you do a Google search for "abundance bowl" you will find page after page of variations on the theme. The Abundance Bowl has no specific recipe, but rather calls on the cook/eater to combine vegetables, grains, and maybe some animal protein in a single dish and tie them together with a sauce or dressing. While the name may be new, the concept is not. This is not a far cry from a one-pot meal. One way of looking at it is Health In A Bowl. You can easily pack your essential nutrients, your favorite flavors, and a range of color and texture, into a single dish. Another way to look at it is Elevated Leftovers/Weekday Dinner. The Abundance Bowl is the perfect home for that can of beans you've had on the shelf for a while, that cup of cooked quinoa sitting in the fridge, the bag of spinach that isn't quite enough for a salad but shouldn't go to waste. And the rest of the salsa (we ate all the chips)! Last night's roast chicken! The Abundance Bowl is nothing more than a simple formula: grain and/or bean + vegetables (cooked & raw) + delicious sauce (animal protein optional).
Once a week I try to cook a few cups of a grain, like brown rice or quinoa, and a pot of beans or lentils. I cook them simply–with water and salt–let them cool, and put them in the fridge knowing that, with a little bit of doctoring (which can be as simple as adding olive oil and salt), I have the basis for a healthy meal. I like to do this with sauces and dressings as well. A simple pesto or dressing takes only a few minutes to make and is often a great way to use up the odds and ends in your fridge or pantry. This, my friends, is how I have avoided countless hangry (hungry-angry) meltdowns at the end of the day. A little bit of prep goes a long way.
Below are 5 super-delicious, superfood-packed sauces/dips/dressings that are quick to make, will keep in the fridge for a week, and bring all the flavor you need to turn that bowl of veggies into true abundance.
Remember, the Abundance Bowl has no fixed recipe. The one pictured here has quinoa & mung beans on the bottom and is topped with a mix of cooked and raw veggies I had on hand–spinach & broccoli which I quickly steamed, carrots, radish, green onion, radish sprouts, shaved summer squash, cucumber & fermented cabbage. You're looking for a rainbow of colors (diversity of nutrients), and a range of textures, so simply some of the components and leave the rest raw for a nice, snappy crunch. The sauces can be kept thick to act as dips or spreads for sandwiches, or even as sauce for pasta. They can be thinned to dress salads or top chicken or fish. If you thin them just remember to keep tasting and adjust for salt and seasoning as needed.
Basil-Hemp Dressing–I love using this as a dipping sauce for steamed artichokes or poured over a baked sweet potato.
1 cup loosely packed basil leaves
1 T hemp seeds
1 clove garlic
1/4 extra virgin olive oil
juice and zest of one large lemon
1/2 t sea salt
-Place all ingredients except the olive oil in a food processor or high speed blender and process until well combined. With the motor running, slowly add the olive oil. Taste, adjust ingredient ratios as needed.
Creamy Sun-dried Tomato-Goji Berry Sauce –a great stand-in dip for hummus or spread on a sandwich, and an easy stir-in flavor boost to any grain or bean
1/4 cup sun-dried tomatoes (preferably not the ones packed in oil)
2 T goji berries
1 T apple cider vinegar
2 T sunflower seeds
1/4 cup extra virgin olive oil
1/2 cup filtered water
-If the tomatoes feel very dry when you take them out of the package, place them in a small dish and cover with very hot water. Let stand about 10 minutes, until they plump up a bit. You may do this with the goji berries as well if you like.
-Place the drained tomatoes, berries, vinegar, and sunflower seeds in a high speed blender and process until well combined. With the motor running add the olive oil. Once the olive oil is well integrated, with the motor still running, add the water to thin to desired consistency. If you want to make this much thinner, reduce the sunflower seeds by half.
*Note: Sun dried tomatoes are usually quite salty which is why this recipe does not call for added salt. Taste your sauce before adding salt.
Beet Pesto–this is a favorite addition to a cheese plate or a veggie burger. It's also delicious as a pasta sauce.
1 cup cooked, peeled beets, roughly chopped
1 clove garlic
1/2 cup raw almonds
1/2 t sea salt
1/4 cup extra virgin olive oil
-Place the garlic, salt and almonds in the bowl of a food processor and process until the almonds are well chopped and the ingredients are well combined. Add the beets and pulse several times to integrate into the almond mixture.
-With the motor running, add the olive oil. Taste and adjust seasoning/texture as needed.
Tangy Herbed Yogurt Dressing–this is the thinnest of the sauces and is one of my favorites to pour over raw crunchy vegetable salads with a medium boiled egg and/or smoked fish
1 cup parsley leaves & stems
1/2 cup dill fronds
1/2 medium shallot, sliced
1/2 t sea salt
1/2 t red pepper flakes
1/4 t smoked paprika
6oz whole milk organic yogurt
1 T extra virgin olive oil
-Place the shallot, herbs, spices and sea salt in the bowl of a food processor and run until pureed and well combined. Add the yogurt and olive oil and run until the yogurt starts to take on the color of the herbs.
Turmeric-Miso-Lime Sauce–again, this makes a delicious dip when kept thick. I love this spooned over brown rice with a sprinkle of Gomasio or thinned and used as dressing on a raw, shaved cauliflower salad.
2 t ground turmeric
2 T cashew butter
1 t white miso paste
1/2 t Manuka honey or other favorite honey
juice and zest of one medium lime
1/4 cup extra virgin olive oil
1/2 cup filtered water
-Place all ingredients except for the water and olive oil in a high speed blender and process until a thick paste forms. With the motor running add the olive oil. Once well integrated, add the water. Taste and adjust seasoning as needed. If it needs more salt, add miso by the 1/2t until you reach desired saltiness. If you know you want a thin sauce, reduce the cashew butter by half.