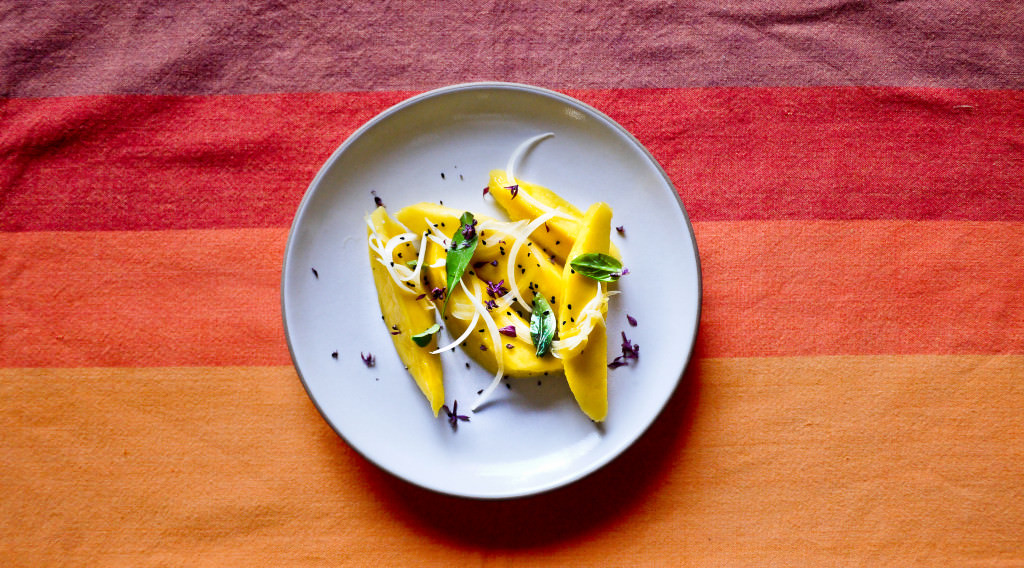 A bone broth, thin noodles, jalapeños sliced on a thick diagonal; crabs cracked and boiled, legs and claws heaped in a bowl, our fingers coated in aoili and sour crumbs. Oats, nut milk, seeds beaten from a pomegranate with the back of a wooden spoon. Cheeses of all sorts–Jarlsberg, Gjetost, chevre in a small red tub. We pulled the daily harvest, leaves bursting  from the cooling ground in rows of frothing green; Mustard, mache, arugula, kale–red russian–eaten off a butterfly plate with boiled eggs and cups of strong black coffee. When the heat broke on the holiday we sat to persimmons, cream, pickled ginger, chilled white wine. We ate with our fingers the guinea hen in mustard sauce; the quail, split and splayed above the apple wood. The brussels were hashed, the bread baked in wine, mushrooms and broth, the potatoes riced and buttered into pillowy submission. There was a plate straight from summer–golden tomatoes and garlic, a tangle of pasta. Days later one from winter–a ceramic pot of potatoes and stewed beef, small orbs of pearl onion bobbing to the surface like glimmering buoys in a harbor. There were biscuits with jam of quince and bay, deeply smoked bacon and bowls of beans. In the afternoon–apples, thin-skinned citrus, a palmful of almonds, raw. We drank water sweetened with cider vinegar and very small glasses of very cold spirits. Cubes of chocolate, chewed slowly at the end of a meal and hot cups of tea made from herbs and roots. I ate three strawberries on the last day and drove north. The fridge was bare, the kitchen quiet, the mangoes not yet ripened.
Green Mango Salad
2 firm, unripe mangos (skins may be  greenish, red or orange)
1/4-1/2 sweet white onion
1 t nigella seeds
1 T Thai basil
juice of 1 1/2 limes
salt and pepper to taste
The seed of a mango is flat and wide and takes up most of the middle of the fruit. Judging by the thickness of the mangoes you have, make one slice from top to bottom on either side of the seed, leaving you with two "halves". Repeat on the second mango. Cut each "half" into 4 or 5 slices. Using a paring knife, carefully peel skin off each slice and discard. Place the fruit in a medium sized bowl.
There should still be a strip of flesh with the skin on it running around the meridian of each mango seed. Using a sharp paring knife, remove the skin from the flesh. Carefully run the knife around the edge of the seed, carving off any remaining flesh, and adding it to the mixing bowl. You can scrape the remaining flesh off the seed with your teeth for an extra treat or just discard the seeds.
Cut the onion in half from top to bottom and place on a cutting board, flat side down. Working still from top to bottom (or using a mandolin), cut very thin slices of onion. I only used a quarter for my salad but you may prefer to use the entire half. Add the sliced onion to the mango along with the nigella seed and the lime juice. Toss until everything is well coated. Garnish with whole basil leaves. Mine was flowering so I added those too.
This dish is a lovely snack–sweet and sour with a little bite from the onion. Top with roasted peanuts if you like or serve as a side dish with seafood or chicken.