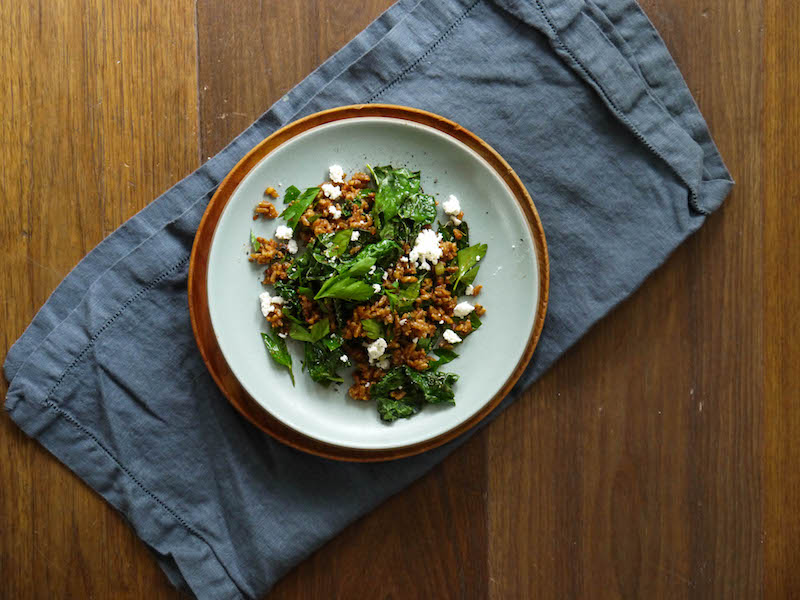 One of my favorite restaurants during a recent trip to Reykjavik, was a very simple, vegetable-focused cafe called Bergsson Mathus. After days of eating lamb and fish and cheese, I was delighted to find a place serving heaping plates of vegetable salads, homemade hummus, and hearty vegetable soups. The most unexpected treat, tucked between thick slabs of fresh-baked bread, was a ramekin of sun dried tomato pesto. I made my own version last week with walnuts, garlic and fresh oregano.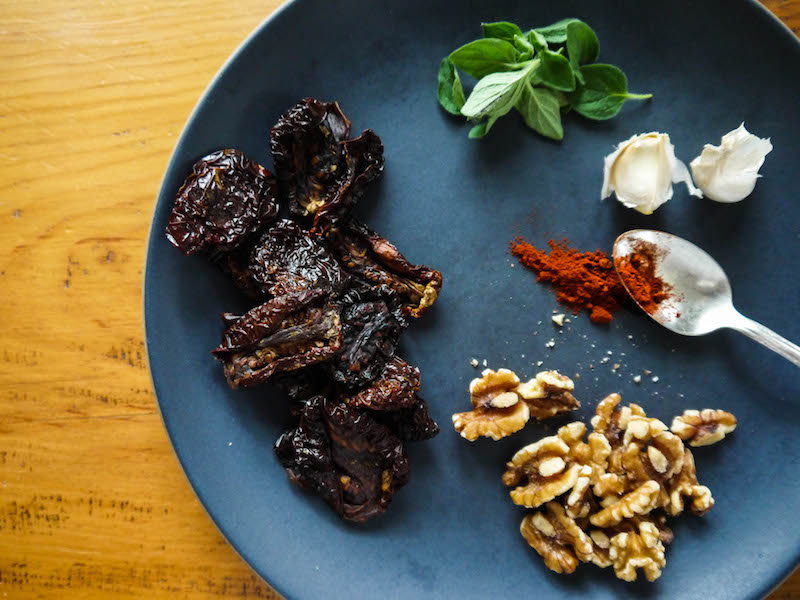 As you know, I'm a big fan of prepping one or two "flavor boosters" at the start of the week so that meal prep becomes as simple as combining veggies with a grain and/or a protein, and adding your booster to bring it to the next level. Because the basis of this pesto is preserved (through drying), it will keep in your fridge for a couple of weeks. Since making mine I've slathered it on my first successful homemade sourdough, tossed it with raw zucchini noodles and basil, and, when the rain came, I cooked up a pot of nutty, chewy farro, stirred in the pesto and all the winter greens I had in my fridge, and topped it with mild sheeps milk feta. If the farro had been cooked already, this would have been a 6 minute meal. I'm telling you, this is a good one to have in regular rotation.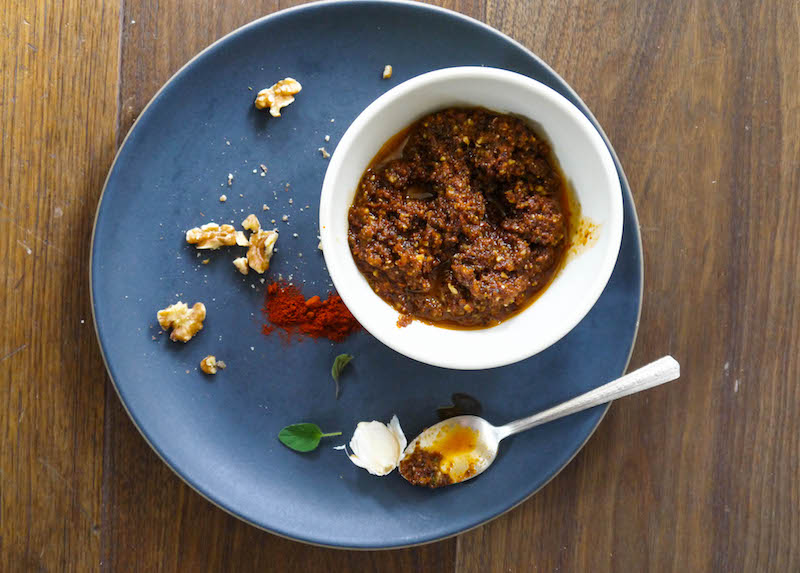 Before the holidays and end-of-year frenzy are upon us, I'm making a concerted effort to spend some time each day just reading. Sometimes I read for fun, sometimes for research. Either way, I find the 30 minutes of undistracted, non-digital immersion in a subject to be simultaneously stimulating and deeply soothing. I highly recommend it. In case you'd like to know what I'm reading, I'm finding kitchen inspiration here, and in this clever book. This great read is giving further credence to my beliefs that we desperately need to get over our fat-phobia ASAP, and this anecdote-rich demonstration of how the Yoga Sutras apply to real life is quickly becoming a well worn, dog-eared reference point for my practice. I sped through this, am almost finished with this, and feel fully freaked out about the future with this. Lastly, if you ever thought you might like to read more poetry, I cannot recommend highly enough, the simple pleasure of getting a really good, previously unpublished, poem in your Inbox, Monday through Friday, and a classic sent to you on the weekends, by subscribing here.
Happy reading, happy inspiration-seeking, and happy very-easy-weekday-cooking to you, friends.
Sundried Tomato Pesto
Note: Sun dried tomatoes are sold very dry, in bags, or packed in jars with olive oil. You can make this using either type. Make sure you taste the tomato to see how salty it is. You may need to add more nuts and herbs to balance the salt content. If you are using non-oil packed tomatoes, re-hydrate them by covering them with very hot water in a bowl for a few minutes before making the pesto.
1/2 cup sundried tomatoes (not packed in oil)
1/2 cup raw walnuts
1-2 cloves garlic
1 T fresh oregano leaves
1/4-1/2 cup olive oil
1/4 t smoked paprika (optional)
-Place all the ingredients except for the olive oil in the bowl of a food processor and process until well combined. With the motor running, add olive oil slowly, through the feed tube, until the pesto is thinned to your desired consistency. I leave mine on the thicker side, almost like a paste, since you can always thin it in smaller amounts later, depending on how you want to use it, by adding olive oil.
Fall Farro Salad
serves 2-4
1 cup uncooked farro
1/4 cup sun dried tomato pesto
1 bunch kale or other winter green, de-stemmed & roughly torn
handful of Italian parsley, chopped
sheeps milk feta or other mild cheese of choice
lots of cracked black pepper
-To cook the farro, bring a large pot of salted water to boil. Add the farro and cook "pasta style" until the farro is just al dente. It should be toothsome and slightly chewy but not soft or gummy. Drain the farro and place in a bowl. You can do this step up to 4 days before you plan to make the salad.
-When you are ready to assemble the salad, place the farro in a large bowl. Stir in the pesto until the grains are evenly coated.
-Heat a small amount of olive oil in a pan, less than you might normally use if you want a crispier texture to the greens. When the oil is shimmering but not smoking, add the kale. Leave it undisturbed for 45 seconds so that the bottom layer gets slightly crisped. Use heat-proof tongs to turn the leaves, distributing the ones on top to the pan's surface and bringing the more cooked leaves to the top. I like my kale just cooked through, bright green, and, in this context, slightly crisped.
-Add the kale to the farro bowl along with the parsley and a lot of black pepper. Stir to combine. Taste and adjust pepper and pesto amounts as needed. Top with cheese just before eating/serving.
10 Ways To Use Your Pesto
Stir into a cooked grain or a bowl of beans
Use it as pasta sauce
Thin it and use as a sauce to top fish, meat, tofu or grilled vegetables
Spread on toast
Add to sandwiches or collard green wraps
Mix in with scrambled eggs
Mix with hummus and use as a dip for raw veggies
Add to simple tomato sauce
Use as a topper for pureed soups
Add to mayo and make a jazzed up tuna or chicken salad