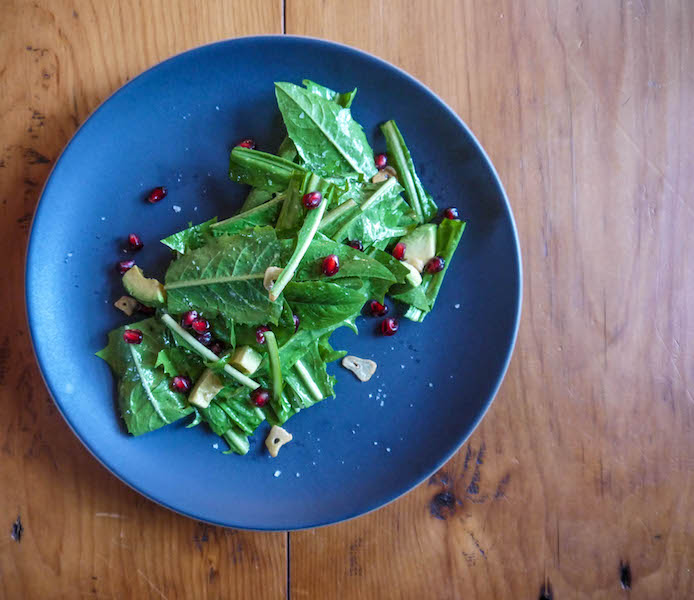 I walked out of the grocery store today with all things winter. Kabocha squash, garnet yams, velvety Medjool dates and a gleaming pomegranate. Dagger shaped dandelion leaves and a curly head of escarole. Persimmons, blood orange, pillowy white beans. The stacks of cucumbers and late season tomatoes held little appeal. These days, I want food that plants me firmly to my own ground. Seasonal eating is not only a way to eat the freshest produce, it's really a way of eating the energy of a season. Winter should be a time to slow down and restore, to hibernate a bit. But it can be hard to slow down in the energy of the holiday season. Staying on top of the end-of-year to-do list often feels like being sucked into a cyclone. You may not be able to slow down your day-to-day, but you can help calm your energy and lower your stress by eating seasonally. The longer nights and cooler temperatures call for cooked foods to warm the body and for foods that stoke the fire of digestion.
Dandelion greens are one of my favorite winter foods. They are hardier than most lettuces and quite bitter, and it's their bitterness that makes them so perfect to eat during the winter months. Bitter foods stimulate the production and flow of bile, which is critical for the digestion and absorption of fat. Dandelion is also one of the most potent blood cleansers and stimulators of the liver, pancreas and gallbladder, the organs responsible for removing poisons and toxins from the body, and the very ones that tend to get overwhelmed and sluggish from holiday indulgences. In short, dandelion is a digestive powerhouse. The holiday season tends to tip the scales (literally and figuratively) for most of us, to the side of excess, so it's nice to have an arsenal of delicious, simple, recipes on hand to balance out the festive days, or the stressed out days, or just to remind us that we are doing something nurturing for ourselves in the midst of it all.
This salad takes only a few minutes to prepare. The bitterness of the greens is off set by creamy avocado and bright bursts of pomegranate seeds. Some other easy winter favorites are here and here, and if you need a sweet treat to take to a party, these are a real crowd pleaser. Finally, if you're starting to feel a little pushed around by the thought of family, festivities and feasting, take a few minutes to read about how to stay balanced in the sweet spot. And don't forget to breathe.
Dandelion Salad with Avocado, Pomegranate & Warm Vinaigrette
serves 2-4
1 bunch dandelion greens (about 5 cups)
1 medium avocado
1/2 cup pomegranate seeds
2 large cloves garlic, thinly sliced
1/4 cup extra virgin olive oil
2 T sherry vinegar
1/2 t dijon mustard
1/4 t sea salt plus more to finish
-If the dandelion greens have very thick stems, trim and discard the stems. Tear or cut the leaves into forkable-sized pieces. Place in a heat-proof bowl.
-Cut the avocado in half and remove the pit. Use the tip of a paring knife to cut the flesh of each half into slices, carefully avoiding cutting through the skin. Use a spoon to remove the flesh from the skin and place in a small bowl. Set aside.
-In a small, heat-proof bowl, stir the mustard, salt and vinegar together. Heat the olive oil in a small saucepan over medium-high heat. Once shimmering, add the garlic and cook, stirring, until the slices are just barely turning golden around the edges. Remove from heat and whisk the hot oil and garlic into the other dressing ingredients. Pour the hot dressing over the dandelion greens immediately and toss with tongs until the greens are well coated.
-Add the avocado and pomegranate to the greens and toss again to combine. Taste and adjust salt as needed. Serve immediately and eat often!