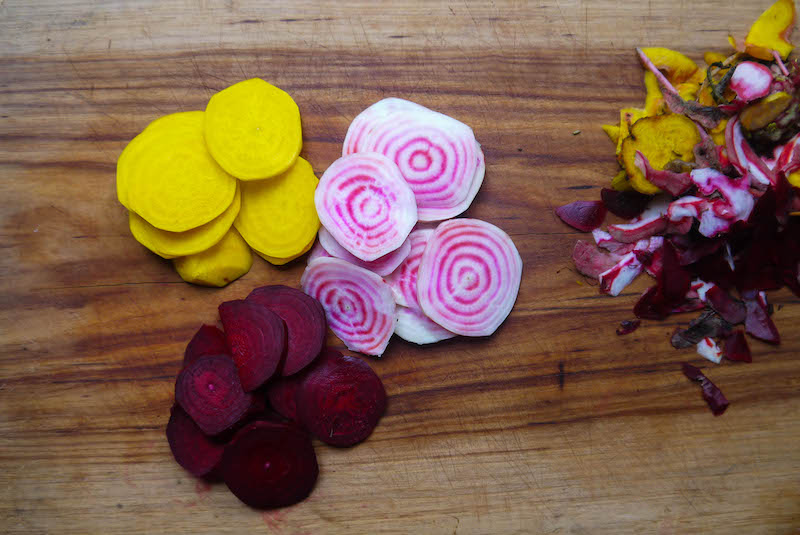 For weeks, spring has been bursting all around me, that quaking, vernal thrust of leaf and blossom, drenching rains followed by sun like a hot penny. All around me I have felt an opening and an awakening and a coming out into the elongated evenings, but until a few days ago, I myself was still in winter. I felt heavy, a little stagnant. The word "trudge" kept coming to mind. My vital energy felt frozen still, despite my impatience for a thaw and shift. And then I had my wisdom teeth removed. Post-surgery, I was house-bound for 4 days, and was forced to do something I usually have a very hard time doing–Relax. I couldn't have been active if I had tried, and so I didn't bother trying. In that permissive, unhurried state, I read a lot. I wrote down snippets of thoughts and ideas as they occurred. I sat in my backyard with a friend for 2 hours and just enjoyed the sun, the cool breeze, the antics of my neighbor's tailless cat who hides in my bamboo. I drew (badly). I took very hot baths. Perhaps most importantly, I let my mind wander. I let it move from thought to thought, from daydream to practicality, and all the while it was like a broom sweeping the dusty matter of my brain, stirring things up and gently whisking out the door the accumulated clutter. The whole process was healing, not just for the literal healing of my mouth from surgery, but for the removal of my own imposed expectation to be "productive" all of the time. After weeks of hoping my usually bustling, busy, productive days would help me feel lighter and brighter, it was this forced respite, in the end, that helped the most. I woke up at the end of the week feeling clear. When I was finally able to exercise again, my body felt powerful after a week of rest–a luxury I rarely afford my muscles. And when I was finally able to chew again, I happily transitioned from the soft, starchy, wintry foods I had been eating, to raw and crunchy spring foods–full of water, full of vitality, as if I was eating the very energy I had been seeking.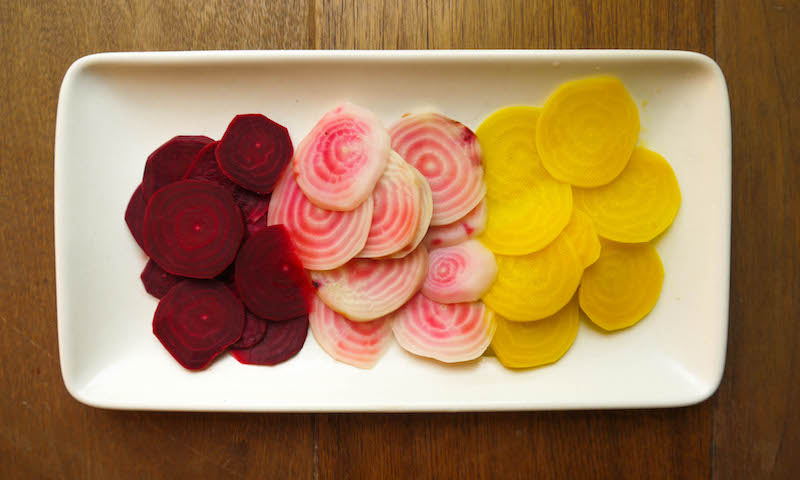 This salad is inspired by one found in Yotam Ottolenghi's book, Plenty More. I had never thought to blanche beets before but it is a lovely treatment for the root we so frequently boil or roast. A quick blanche of thinly sliced beets softens them just enough, while preserving some snap. Marinated onions act as a pickley counterpart and dressing all-in-one, and any spicy, seasonal salad green on top adds a layer of freshness. This would be great with the addition of avocado slices or crumbled chevre for a heartier meal.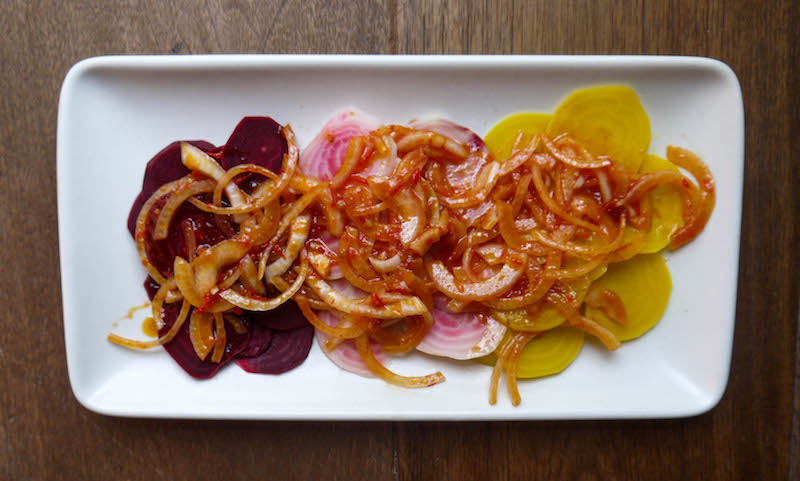 For those of you craving a cleanse, or a detox, or just a short period of lightening up, a 7 Day Clean Eating Program for Spring is coming very soon. In the meantime, start to reach for lighter foods, greener foods, the first spring vegetables and early season fruits. Perhaps, as well, consider what it is you need "cleansing" of. I don't recommend electing surgery for the sake of a stay-cation, but consider, that a few days of letting yourself be less busy, allowing your body to relax and your mind to float and dream and roam, may be just the spring cleaning you need.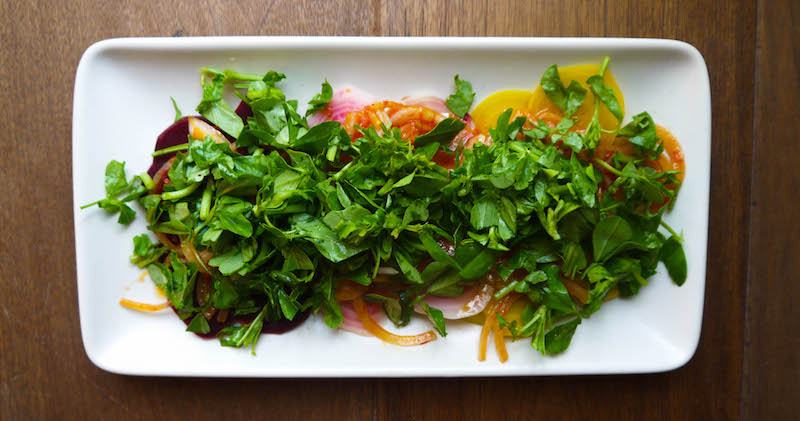 A Simple Beet Salad
Adapted from Plenty More
serves 2
3-4 small beets
1/2 an onion
1/2-3/4  cup watercress, fava leaves, pea shoots or methi leaf, chopped
2 T sherry vinegar
3 T olive oil
1 T harissa or 2 t other hot sauce
salt and pepper to taste
optional additions: sliced avocado, mint leaves, cilantro leaves, edible flowers, chives, chevre…
-Whisk the vinegar, olive oil, harissa and a pinch of salt together in a medium bowl. Thinly slice the onions and add to the dressing, stirring to coat evenly. Set aside for at least 10 minutes, though 20-30 is better.
-While the onions are marinating, peel the beets and slice very thinly. Bring a pot of water to boil and add the beet slices. Cook for about 3 minutes, until semi-cooked but still firm and a little crunchy. Drain in a colander over a sink and rinse with cold water. Set aside. Note–if you are working with different colored beets, blanche each color separately, starting with the lightest. Keep cooked beets separate until you plate.
-Once ready to assemble the salad, spread the beets in a single layer on a serving plate or individual plates. Season with flakey sea salt. Spread the onions in an even layer over the beets. Top with watercress of greens of choice and any other desired toppings. Drizzle any left over dressing on top. Season with salt and pepper and serve immediately.