Dear readers, I have been away from this page, which, I'm realizing, is not uncommon for me at this time of year. There is an instinctive drawing-in after the outward efforts of the holiday season. It also likely goes without saying, that there is an added sense of weight to these days, and a troubling nest of thoughts and feelings that many of us are working to unravel. I have, perhaps been avoiding this space more than usual for these reasons. As I attempt to understand what is happening in the world and my position in the happenings, I hope you'll forgive me for staying quiet on such matters for the time being, and allowing the paragraphs that follow to be a place for what they have been in the past–a joyful exploration of food and cooking and the different lenses we can use for looking at what it means to be well. For those of you who need to keep your focus honed on matters that feel more pressing, please press on. I understand. If, however, you are in need of a welcome, and hopefully inspiring few minutes of distraction, come along with me for this quick and wintry dish.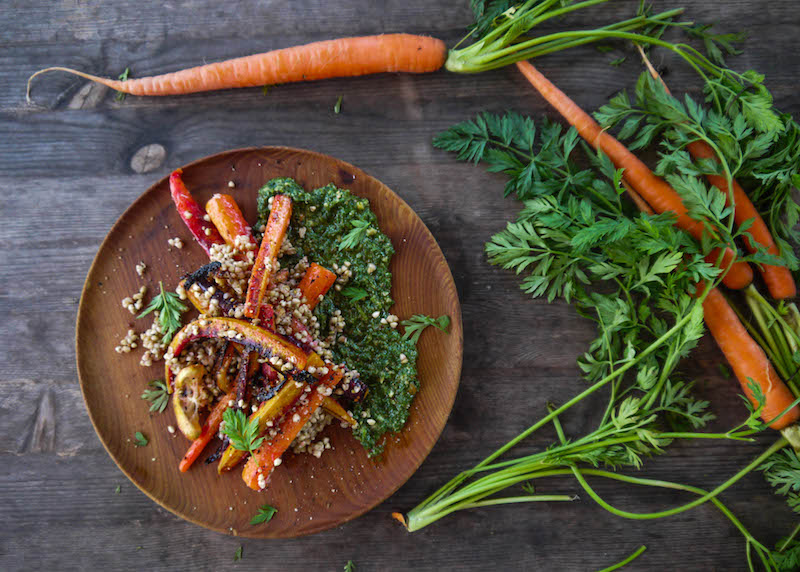 January is one of my favorite food months. One would think that in the depths of winter, our options for seasonal foods would be monotonous, bleached and bland as the weather, when, in fact, as if sensing our need for bright reprieve, nature provides us with a stunning array of jewel-toned foods: emerald winter greens, intricately feathered and textured through the leaves; geode-like watermelon radishes, unremarkable and dusky on the outside, revealing a shock of glossy magenta when cleaved open; rosy grapefruits; crimson beets; garnet drops of pomegranate seed; glowing, amber citrus of all kinds. Winter food is a feast before it even touches our lips, rich in color and texture, sensuous, to the look and touch, and the flavors–pungent, bitter, clean, and sweet.
From this wintry trove, carrots–a four season food if we're being honest–caught my eye this week. Next to the gnarled, woody juicing carrots were piles of newly harvested, local ones–small and smooth skinned, dark purple and sunny orange, stems burdened by their frothing tops. I scooped them up along with aforementioned glowing citrus and brought them home with a hearty salad in mind, using a favorite winter grain: buckwheat.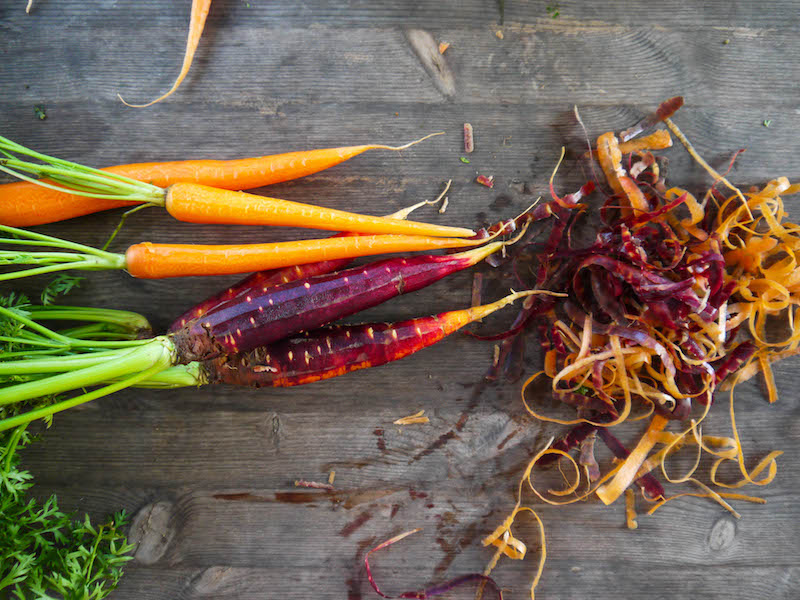 As I've mentioned before, buckwheat actually isn't a grain but it's usually classified as such for ease. It is packed with nutrition, people! It's full of protein, fiber, and all 8 essential amino acids. It's a good source of trace minerals and it helps build the blood and improve circulation. It is also– conveniently for those of you with gluten sensitivities–one of the naturally gluten free grains.
I cook my buckwheat pasta-style to ensure the perfect texture. Mushy grains, in my book, are no bueno. Buckwheat is naturally, very mild in flavor but it will soak up whatever you add to it. Here, it's tossed with a whole grain mustard vinaigrette and simply roasted citrus and carrots, the natural sugars of the carrots slightly caramelized and the acidity of the lemon balanced some by the char of roasting. Because I hate the idea of throwing away so much beautiful greenery, I save my carrot tops (which are rich in phosphorous) and make a garlicky pesto which will last me the week.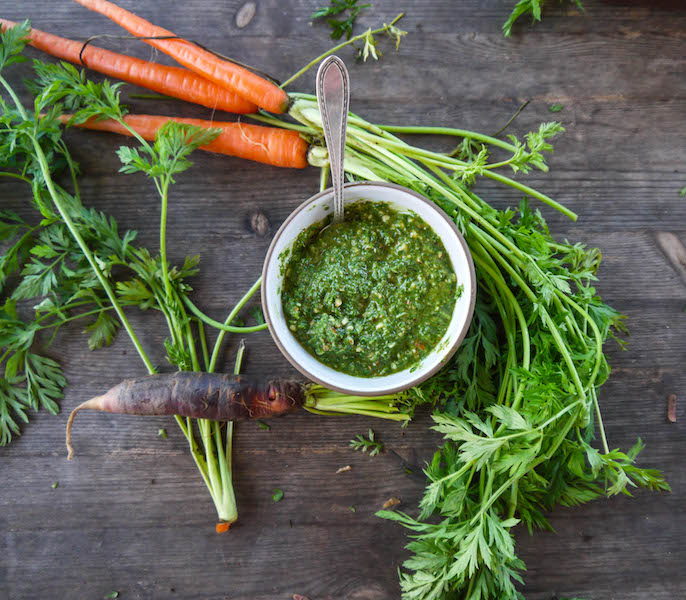 As usual, there are many iterations for this dish. Add chopped hardboiled egg, or a soft cheese to make the dish heartier. Serve alongside fish or meat for a more traditionally rounded out meal. Add cooked or massaged kale for heartiness of a different sort. Swap beets for carrots, oranges for lemons. You get the idea. No matter where you are, or if and how you try this dish, I hope the year is off to a healthy, happy start for you, and that you're finding moments of inspiration and optimism as it all unfolds.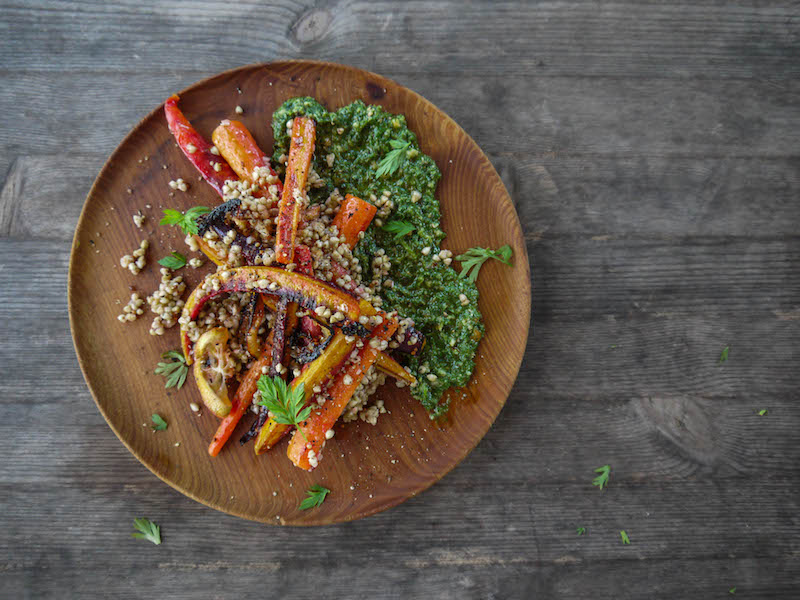 Buckwheat with Roasted Lemons & Carrots
serves 2-4
1/2 cup raw buckwheat groats
6-8 small carrots, or mediums cut into halves or quarters
1/2 lemon, thinly sliced into rounds
reserved carrot tops, leaves only (about 1 1/2 cups)
1/2 cup almonds
pinch salt
olive oil
1 t sumac
1/2 small shallot, minced
1 T whole grain mustard
2 T apple cider vinegar
You can make each part of this salad ahead of time, chill, and assemble when ready, or start the carrots, make the other parts while the carrots are cooking, assemble immediately and serve warm.
To Cook The Carrots
-Preheat the oven to 375 degrees. Spread the carrots and lemon slices in one even layer on a baking dish. Toss with about 1 tablespoon of olive oil and a 4-finger pinch of salt. Roast for about 20 minutes, stirring half way through to prevent the lemons from sticking or burning. The carrots should be slightly caramelized but still have some firmness to them. Let the pan cool slightly, then remove the lemon slices and chop roughly. Leave carrots whole for plated salad or chop into large, forkable pieces for a more mixed salad.
To Make the Pesto: This can be made before you start roasting the carrots and will keep in the fridge for a week. It will make far more than you need for this dish so use as you would any other pesto.
-Place 1 clove garlic, a pinch of salt, and a small handful of almonds (or other nut or seed) in the bowl of a food processor. Pulse to combine. Add sumac and carrot top greens and process until ingredients are well combined. With the motor running, add olive oil in a steady stream until the pesto is a thick but fluid consistency. Taste and adjust seasoning as needed.
To Make the Dressing: This can be made up to 1 day ahead of time
–Place the shallot, a pinch of salt, and the vinegar in a small bowl. Add the mustard and whisk together. While whisking, pour in olive oil in a steady stream until dressing emulsifies. Roughly 2-3 tablespoons of olive oil. Taste and adjust seasoning as needed.
To Make the Buckwheat: Can be made up to 2 days ahead of time
-Bring a medium pot of salted water to boil. Add the buckwheat and cook until soft but not mushy, about 10 minutes. Drain and set aside or toss immediately with carrots, lemons and dressing.
To Assemble:
-Place a heaping tablespoon or more of the pesto on the side of a small plate and use the back of the spoon to paint a wide swath of pesto along the plate's edge. In a large bowl, toss the buckwheat together with the carrots and lemon, adding the dressing in small amounts and tasting before adding more. Everything should be well coated but not soggy.
-Heap the buckwheat and carrot mixture in small piles onto each plate with some of the pile landing on the swipe of pesto.
-Alternatively you can dollop the pesto on top or on the side of each plate of salad, or pass a small dish of it around to let each person add as much as they'd like. You can also paint the entire base of a plate or platter in the pesto and mound the salad on top for a family style serving.
A SPECIAL OFFER FOR BUCKWHEAT TO BUTTER READERS
As chance would have it, as I re-enter my winter love affair with buckwheat, I had the opportunity to connect recently with the lovely Leeann, founder of BuckWHAT foods. Leeann makes very delicious buckwheat treats–real food products with no dairy, gluten or added sugar– and, as of today, you can get 10% off her products just for being a Buckwheat To Butter reader. I am particularly partial to the granola, but it's all dang delicious. So, eat your buckwheat with carrots or get it on the go! To get 10% off your BuckWHAT order, each and every time, add the code BTB10 at checkout. Happy Noshing!